Travertine Installation Services for Wellington Residents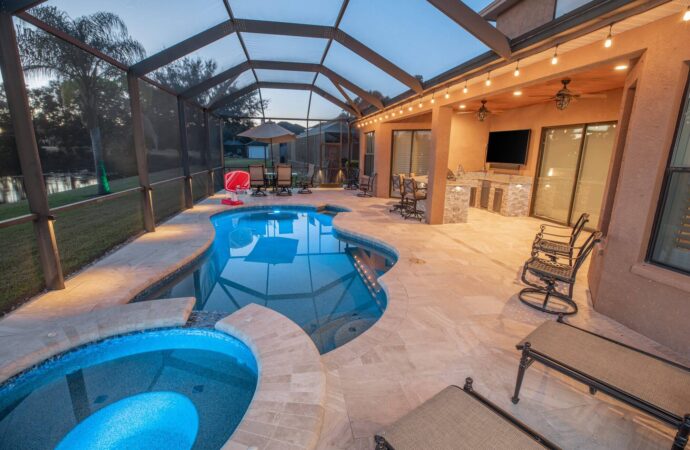 SoFlo Pool Decks and Pavers of Wellington is one of the few companies in the city that can handle your travertine installation smoothly. We have been working with the material for over two decades and understand how the process should occur. Additionally, our contractors are qualified and experienced in the process. The equipment, tools, and top-quality products we provide them complement their service expertise. Thus, you can rest assured your installation will be in the best hands. Do you need it and is this the one you need for pool deck resurfacing?
It can be the greatest option for durability, longevity, and aesthetics. Although the look matter when designing your pool deck and resurfacing it, you need to worry about safety and other factors. As most pool owners neglect durability, we worry for them and bring a brand-new recommendation. In most cases, we include travertine at the top of the list due to its price as well. You can have a stunning and long-lasting surface while keeping it within a low budget. This is all thanks to how we handle materials and the rates we work with to perform the service.
We can have the entire pool deck designed with travertine. Then, you can see the design and plan of how it will look, how long it will take, and the final price. All this before you even decide to work with us. However, if you hesitate about the specific resurfacing option, we introduce you to its pros and cons before proceeding.
When working with your pool deck, we know you will feel overwhelmed due to the number of options you have and how you have to deal with every little detail. After all, it is important to consider materials that are durable and long-lasting and go over the planning phase, so you know the project will end up being a success. Now, the question is, which surface would be the best for your pool deck? Travertine installation has become quite popular over the past six years in Wellington due to its durability, affordability, and stunning designs. This is why we highly recommend it at SoFlo Pool Decks and Pavers of Wellington, and we are right here if you want to take on this project.
You can achieve the beautiful look of travertine by having it installed around your entire pool area or other areas as per your request. We want you to be happy with the design and have a surface that won't crumble in a few months or years when it should, in fact, last for over five years without much maintenance. All this while working on a surface that you love and brings durability and longevity. We will consider your best interests and meet your needs so that you don't have to spend more.
Travertine can also be used in many other ways besides regular pool deck resurfacing. If you have the right professionals to help you understand the function of the material and how it will perform in areas where water is more prevalent, you can create unique textures and looks.
When replacing your pool deck, you want to make sure that the next option is viable for at least a few more months. This is why it's important to consider all options. In this instance, we're looking at the travertine one, and we will provide you with all details and information before you make the final decision to use it.
How and when? Right below so you can be prepared when contacting our team for the service and start the planning phase accordingly:
Non-slip technology increases safety and protects you against any injury. Travertine is known for how well it can absorb water and the result you can achieve as long as it is properly installed in the deck area.

It's also heat-resistant, meaning it can withstand extreme weather or scorching sun, and the surface will not get hot and allow everyone to move freely without feeling as if their feet are burning or making it difficult to spend time in the space.

Travertine is quite durable. You can have several people and move all the items you want in your space. It will stand it quite well and continue to perform incredibly after several months and years.

Its extraordinary longevity makes it unique. It will not crack or become easily broken for more than ten years. This is part of the durability and how you get an actual surface that lasts.

Maintaining the surface is easy and inexpensive. It is very easy to maintain, and repairs are not common due to the quality of the travertine itself. 

The service and installation are affordable and simple to perform if you have reliable professionals. We also offer these services upon request, and we will make sure you have the most stunning and durable surface for your deck or other areas in your pool.
Contact Us to Get It Done Today
SoFlo Pool Decks and Pavers of Wellington contractors will be there to help you throughout the process. We want you to feel confident in your decisions and happy with the end product, which is why we will start from the very beginning by letting you know everything you must consider about travertine.
Our professionals are skilled and experienced. They are familiar with both residential and commercial properties, as well as smaller and larger projects that can take several days to complete or maybe a few ones if we know what we are dealing with before we begin, which is usually the case.
A pool deck is an important feature. Although this is obvious, many people underestimate the amount of work involved. We are happy to talk about the importance of pool decking and how travertine can bring you the best result for it that will save you money in the short and long run.
It is important to create a safe environment that allows people to swim in the pool or just spend time in the surrounding spaces.
It is our job to make sure you get exactly what you need. We are able to identify the problems and prioritize them. You may be interested in travertine as a second or first surface. We can help you with any need, and this includes making the decision to have it installed or not.
Now, when you are working with travertine and what we can offer, we want to remind you that the price can be as low as $4 per square foot, but it will depend on the quality of the product and how much work the entire project takes since some installations may take more time than others.
It is also crucial for us to work around the entire design and planning if we want the installation to be a success, so additional costs will be added. However, this does not mean we will charge you a fortune for the service.
We will make sure to adapt or stay within your budget so you can rely on our team and have a competitive price that will allow you to have travertine installed in no time and ensure you don't have to invest more time and resources in this pool deck or in other spaces and areas of your property where travertine can be beyond useful.
Contact us today to have our team work on your project, and we will be more than happy to assist you by answering all your questions, designing the space, and handling the project as required.
Below is our list of additional services: