Pool Lighting Installation Services for Wellington Residents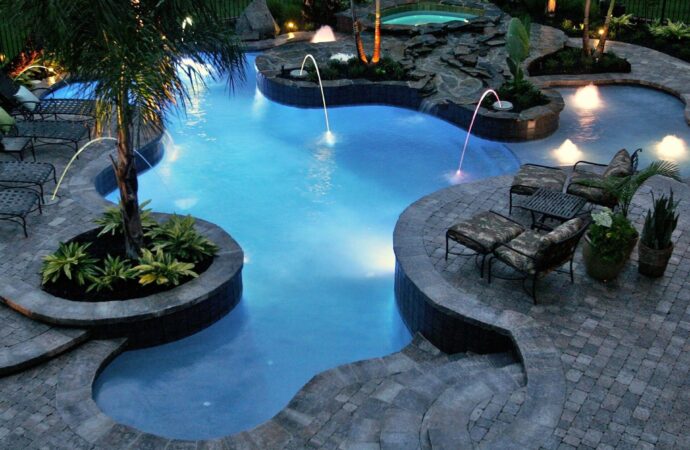 Your pool's aesthetics are everything to attract clients and guests. Or maybe to just enjoy the feature with your family and friends. Most people ignore that this must be considered both day and night. As most contractors build pools around the use during sunny days, they forget about nights when swimming or diving in can be fun. Well, we don't. At SoFlo Pool Decks and Pavers of Wellington, you have a team ready to provide pool lighting. We will ensure all your landscape is stunning, your pool visible, and the main character of the space.
For this, we use top-quality electric systems and circuits. You won't have to worry about any accidents or misfortunes. In the process, we design and plan how we will place the different lights and features. Of course, all this is while we consider your preferences in colors, lighting type, and the specific landscape you want to achieve. If you aren't sure about what's better or want to leave everything to our team, we can also provide all the support. Leave it to us and we will work on bringing a daydream vision to life.
You won't have to worry about price or budget either. We work around what you can afford and plan for it. Also, we have top-quality products, which doesn't make them the most expensive in the market. Thus, rest assured you can have pool lighting that suits your needs and what you want.
Perhaps you are thinking of adding new features to your outdoor spaces or a new style to your entire pool area, where you love spending time alone or with your family and friends. Whatever the case is, you need to consider all the options available instead of always going for the popular ones that can also bring a lot of expenses your way. You should think about the impact fixtures have on the overall look of your pool and how fun they can make it. You will be surprised at how often pool lighting is overlooked and the results it can actually achieve for you when you decide to focus on it and bring a complement that can become everything.
However, it is essential, if you want to make the most of your investment and create an outdoor space, that you can trust the right people and contractors for the task. Otherwise, you will end up wasting your resources and achieving a different result than you should and want. There aren't many professionals who are qualified to handle this type of outdoor project, but at SoFlo Pool Decks and Pavers of Wellington, we worry about the lighting and your entire pool area in different degrees since we are here for more than just a simple service and solution.
We know how important it is to complete the landscape and add beauty and functionality to the deck or pool. That's why we don't leave our services the way they are now: repairs, surfacing, resurfacing, and all your regular needs. We go beyond what people expect and make sure you can enjoy the result you get in every single aspect.
We added lighting and this landscaping option to complement your existing spaces and help you with every single detail, so you didn't have to choose other contractors that have delivered poor results so far. Also, although pool lighting is often considered more of an aesthetical need, think about this: without lighting, you won't be able to see the surrounding area. We want the pool to be the focal point at night and bring all the lights that will be enough for you to enjoy your space.
It's not just about the appearance of your pool; it is about making sure you have enough lights to make everything visible and keep everyone safe inside the space.
The lighting system should allow you to see into the pool and reach similar goals, but it also must keep the water safe from electricity.
To have enough light, you will need to plan the space around the pool. If you have a commercial property, this will enable you to see the pool from your office, for instance, or maybe just bring your guests and customers a better experience.
Everything depends on the design you choose, or we help you with as well, and we want to make it clear that we won't just install a huge reflector but rather worry about your entire space and bring the specific systems and features needed based on the most aesthetical and functional design you approve from our team.
We Will Need to Put in a Lot of Work, But It Is Worth It
Even though it seems easy, it's not simple to have your pool lighting in place since this is not how it works or what we do all alone. It needs to be designed and planned, or you will get a poor result that doesn't light up the space nor brings a stunning and aesthetical result.
We recommend professional help for this very reason, and this is why we urge you to trust us. Our team can advise on the best solutions, select the best materials and correctly place fixtures to avoid accidents. Enjoy a beautiful area that is both accessible and attractive, thanks to our help.
Our team is dedicated to making sure you are satisfied with our products and the entire installation. Although lights can last for several months, we strive to make them last even longer. It all depends on how many lights you use for your pool and the products that can be installed accordingly. You won't have to worry about electricity or how it is managed. We will be happy to help you with any safety concerns.
We will evaluate your pool and suggest the best lighting for it at night. We will work closely together to create a design that suits your outdoor space and not only the pool alone. We can help you choose lighting and colors that will complement your outdoor space and bring a different ambiance so you can have a completely different result in place.
The pool may be lit for your project or service. You may also want to highlight certain features or light them up around the pool. This will allow you to create a design for your space and bring a better experience to all your clients or the ones that will enjoy the pool, including you.
We Either Help with First-Time Installations or Replacement
You can have your pool lighting installed for the first time, repaired, or replaced. You may need to replace them or create a new environment in your pool area. No matter how many times you've worked in lighting, our experts can design and install an outdoor space that suits your needs.
We're here to help you in any way we can. It doesn't matter if your level of experience is advanced or if you just want to know how lighting affects the beauty and appearance of your outdoor space and pool. We are here to answer any questions you may have and make sure you feel confident in what you do for your pool and the entire space on your property.
Pool owners may need to replace or upgrade their electrical systems. You can save money by replacing fixtures and equipment that are no longer needed or quite old. This will allow you to create a unique pool design.
We understand that sometimes you will need to replace an item for many reasons. This will enable you to explore other options and allow us to better understand your space. We will make sure you are happy with the final product no matter what the project ends up being.
For a free quote, contact our team based on your pool size and any fixtures required to achieve the desired results, or leave the entire project in our hands while you are actively involved.
Below is our list of additional services: