Pool Plastering Services for Wellington Residents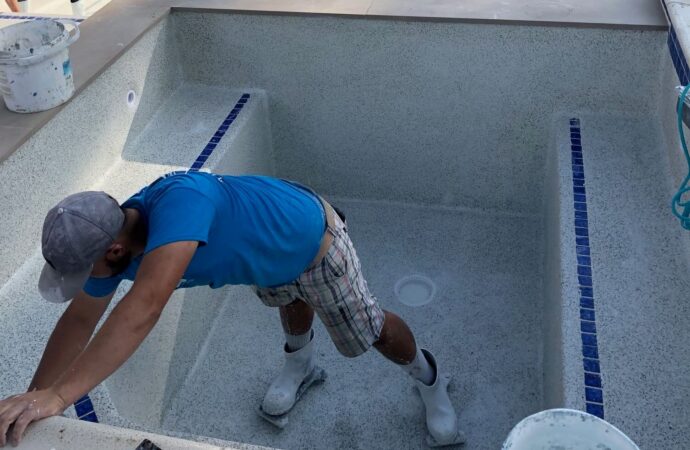 Guaranteeing that your pool is ready to be used takes multiple steps. To begin with, pool construction is not an easy task, and it takes time and effort to get the result you want. Pool plastering is crucial among all the services and steps included in the process. For those new to the term and process, it is the final seal for your pool. It will ensure a smooth surface and a unique design based on the plaster used.
At SoFlo Pool Decks and Pavers of Wellington, we know best how to work with all those materials. Our company and contractors have worked with pool plastering for over two decades. In this process, we have ensured this coating is done, so you don't have to worry about your pool's quality and durability.
You can customize the specific plaster you use and how you want to work with this process. Although it is crucial to ensure your pool is safe, long-lasting, and will look stunning, you have to make sure you go for the aesthetic part. This way, you can be satisfied and happy with every part of the result.
But what is all this plastering about? Is it really important for your pool so you can enjoy the feature? Or can it be ignored compared to other steps and processes for your pool?
The pool plastering layer makes it possible to fill your pool with all the water. If you are unfamiliar with the element, remember this: it is for safety and your inner walls, not for the external part of the pool.
Plastering enters the entire structure, where your water will be poured. This is why it is an integral part of the water feature since it allows you to retain all the water without damaging your structure. You get a protective layer that will also extend your pool's lifetime and functionality.
How Does Our Team Handle Pool Plastering for You?
---
Working with this project will require a list of things and factors to guarantee a result that won't lose its durability with time. The first of them is having experts handling it.
Most pool owners want to tackle all their pool needs and services independently. They don't know that it takes more than having the equipment and materials. You must know how to work with them, prepare your pool, and, in this case, how to apply the plaster. To begin with, do you know what plaster is the best for your pool? What about the design and aesthetics you want to achieve?
There is a long list of factors to be considered. What our team and contractors do for you is focus on all of them. This way, you can relax and rest assured that your pool plaster will be properly applied. Our type will also be based on your preferences and what's best for your pool.
That being said, does the plastering take a lot of time? Or are we able to work on the entire project in a day?
The timeline or timeframe to finish the project will vary. The larger your pool, the more time it will take our team. The same goes for smaller pools. The plastering will take less time and you can also expect a different rate. But regardless of pool size and how you need us to work on the project based on the plaster you chose, we follow a similar process for everything:
We help you choose the plaster and its color. The same goes for the type. In our company, we offer three top options: white, aggregate, and pebbled plaster. They all come in different textures and colors, and your choice will depend on your budget and preferences.

Once you have picked everything, we proceed to drain your pool. We have to ensure it is drained and dried to apply the plaster and go over all the surfaces.

Before moving on with plastering the pool, we have to relieve hydrostatic pressure.

We proceed to prepare the space for the plastering. This includes checking cracks, damage, and hollows and focusing on the condition of the pool.

To ensure we have a clean plaster in place, we have to acid wash the pool to remove any grime or sediment, even when it is minimal.

Finally, we start applying the plaster of your choice.
We have to scrub the surface once the plaster is dried since some uneven areas are common. This is due to how the plaster is applied manually by our contractors.
When you have the plaster done, remember that this isn't the last step for your pool structure. You will have the coping and surfacing or refinishing process. The plaster will allow the sealing of all the surfaces. It will add color and texture, but if you want to install tiles and another surface, you must include this as the next step.
Once we have completed all this, we can finally check the pool's condition and result. If everything is perfect, we proceed to fill it and keep an eye on any issues.
Remember, we are here regardless of when you need us. This can be before, during, and after the plastering is done. We have to be there if you have any issues with the material or need our contractors to check some areas.
Time & Price: What You Need to Know About Pool Plastering
---
If you are worried about these two factors, contact us ad request a free estimate. We can inspect your pool and give you a quote around your needs and the type of plaster you choose.
We also need to know your pool's size and the plaster you want if you have any requirements in time.
For the timeframe, pool plastering takes 4 to 8 days, depending on the repairs, drying, and all the details. We will let you know the details in the estimate provided and you can change or add anything accordingly.
Feel free to ask any questions to our team at SoFlo Pool Decks and Pavers of Wellington.
Below is our list of additional services: