Pool Deck Renovation Services for Wellington Residents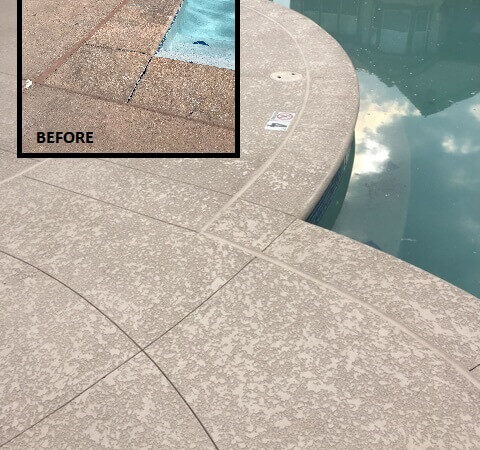 A pool deck is just as important as the pool itself. You will have an issue if you don't have a surface that can prevent any slips and offer a good experience while inside and outside of the pool. In most cases, pool owners have an old deck to renovate or a brand-new one to build. If you have pool deck renovation in mind, our SoFlo Pool Decks and Pavers of Wellington team can support your needs.
We are here to provide all the assistance and support you need for your renovation. As we know, this isn't an easy project. Our help begins with assessing your pool and getting a design that meets your needs and preferences. We will ensure you're happy with the result before we start.
The entire project can include many steps since you can add, change, or remove multiple features and elements.
The most common option when renovating a pool is resurfacing the entire deck. This includes choosing from eurotile to brick pavers and many other surfacing options. In our case, we only give as options those that are non-slippery and can offer heat resistance:
Eurotile.

Brick pavers.

Spray deck.

Travertine.

Stamped concrete.

And more.
We can guide you through the selection and let you know what's more suitable for your pool deck. For it, we must know your budget and preferences in style and design. Once we are clear on it, we will bring you a design and specific estimate around it.
Now, is deck resurfacing the only option for the renovation? Not really. Anything you want to add, change, or include in this project is considered. For instance, you may want to add a fountain as a feature, maybe go for a pergola, or bring a new addition to your space. We are here to make the deck possible, making it comfortable, functional, and stunning.
Our team is here to ensure you can approach this project without worries. Maybe you have an aesthetical goal in mind, or maybe you are going for a more functional one. Whatever it ends up being, we are here to design it all and make it possible at a fair rate.
What Can You Get with Our Pool Deck Renovation?
---
Although it is focused on the deck more than the pool, we can fit multiple requests in one and focus on the entire design. This way, you get all the options for your space and harmony in your creation.
With this in mind, we will need to know what you want for your pool deck so we can bring multiple options and suggestions.
If you are aiming for the resurfacing option because your deck is damaged or old, or you want a new style, let us know before anything else. We will go for the same type of surfacing you are using or include a new one depending on the design and style you want. Then, focus on resurfacing the space and achieving the final result.
While we are working on the surfacing project, we can include more details and aesthetics. Some pool owners have asked us to create a special design with the materials used. For instance, you may want multiple travertine colors instead of a single and uniform one. It is up to you and what you request.
For other options and parts of the renovation, we can offer what most people aim for in terms of aesthetics:
Pergolas: we will build all the structures for you of stone, wood, or any other material. It will give you shade and invite everyone to enjoy their time while they are not inside the pool.

Fire pits can be a great addition to your space so you can use your space at night and create a nice environment.

Water features waterfalls, fountains, ponds, and more. We can include them to bring a new vibe to your place. This will add value and ensure you get to enjoy your space more.

Hardscapes: Our team can install anything like retaining walls or features with stones and rocks in your pool deck.
The list of features we can install keeps going from here. As we learn more options and bring all experts to your project, expect us to comply with all your requests. This way, you don't have to worry about the multiple ideas and how you can fit them into your deck. Or if they are even good for the space, you have at the moment.
How to Request Our Services in Wellington & Surrounding Areas
---
All it takes is a call or email to our team. Our contact form is always open for any request and question you have about our service. We would love to be the contractors providing your support and assistance.
The process we follow will guarantee you get the most out of the investment when relying on our team:
We visit your place after scheduling a visit with you.

Our team will give you a plan based on your pool deck's condition and preferences to focus on the renovation.

You will get an estimate with it, so you know how much you are spending and why. We will adjust the price based on any additions or if you remove anything from the project.

Our team will wait for your call or contact. You can work with us immediately or take your time getting back to us. We will be here whenever you are ready.

Once you decide to work with us on your pool deck renovation, we will start the project the next day.

We keep you close to the entire process so you are involved in what we do and are happy with how the renovation goes.
Give us all the details and preferences around your pool deck. We are here for you and all your needs.
Below is our list of additional services: