Pool Heater Installation Services for Wellington Residents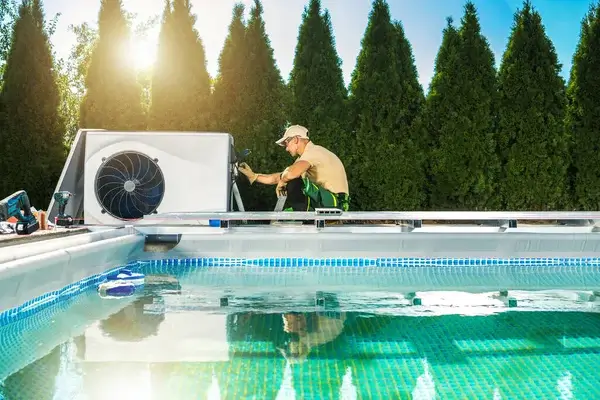 Pool heater Installation isn't what most people consider for their water feature. Considering Florida's weather is known for being mostly warm and a good option for enjoying a pool, why would you need a heater? We can think about two top reasons:
You want to maintain your water at the right temperature so you can even enjoy it at night.

The weather during some months of the year isn't freezing cold, but the temperature can sometimes go low. This doesn't allow you to enjoy your feature.
We highly recommend installing your heater at SoFlo Pool Decks and Pavers of Wellington. It will allow you to open the option for family members to be at the pool all day. If it is a commercial pool, you can also have the feature ready for your clients or guests. Overall, you don't have to think about your heater as a way to have a jacuzzi or sauna. You can easily consider it a way to keep the water at the right temperature. This will help maintain the feature and work on the cleaning way easier.
But is a pool heater installation that simple to handle? If you decide to get one, what is the best option in the market? Will it be expensive? Or what if you have to perform maintenance constantly? We know there are many worries and questions about this. But you don't have to worry as long as reliable contractors help you choose the right option, plus help with the installation.
The types of heaters you have include the usual gas option, the electric one, and the solar heater. In Florida, it is possible to get a solar heater. Thanks to the state's weather, it will save you so much time and money. Considering most days are sunny, you get to spend nothing on the feature and electricity bills. You will only need to focus on how to use the time of the heater you get.
Our team highly recommends them to all commercial and residential pool owners. You will have to go for quite an early investment. However, the operating costs will make the heater pay itself and you get a lot of time for heating.
Are There Other Types of Heaters We Recommend?
---
After we mentioned the gas and electric heaters, you know there are some options to consider. Are they as good as the solar option? Absolutely, but under some considerations and depending on what you need.
Gas heaters are great but quite expensive when it comes to operating costs. It isn't the most cost-effective option if you need to keep the heater running all day. However, it can be a great alternative if you want to use your pool occasionally and heat the water for it.
We have installed them for most residential owners. They get to use the pool anytime as the heater is always there. But this doesn't mean they must keep it running all day. Your water will heat fast and this is regardless of what time of the day you decide to use it.
The electric option comes with your usual problem: energy bills. The key to dealing with and making these heaters work lies in how you use them. For Florida's weather, they don't have to be that expensive.
Water will take a long time to heat if the temperature is quite low. Below 50ºF is already an issue. But if we follow the regular temperature in the state, you can use the heater without problems. Water will heat fast and maintaining it warm won't consume as much energy. They end up being efficient and cheap to operate.
The type and brand of heater used also influence your long-term expenses. People will always tell you how expensive a heater is, but our team will do the opposite: they are not if you get the right type.
How Do We Help You with This Process?
---
Our goal is to inspect your pool and needs. You will have our contractors consider the different options available and bring some proposals. This way, you can choose the most suitable based on your budget, heating needs, and how much you can afford the feature in the long run.
Although we do recommend going for solar heaters, they can be considerably expensive in the beginning. They will pay off, but it becomes a bad investment if you don't have the resources.
For gas options, specific use for them will be the key. Meanwhile, the electric heater is better when you need to keep it running all day but without spending a fortune.
We will get you through all this information and determine what's better for you. You will get a full walkthrough of the process and how we make it possible to save time and money and install your heater.
Keep in mind that we worry about you. This includes getting you the different options for heating, the bills, and how much you have to spend. We would love to work on the design of the heater as well. You can add a different feature to make it aesthetically pleasing, depending on where it is installed. Of course, the heater is not usually insight, but we give you all the available options.
Finally, expect us to work on your other issues when installing your heater. We have noticed that many pool owners have issues with their systems, decks, and features. They prioritize the heater but forget about repairs or cracks. We are here to work on multiple needs and processes if needed. Thus, you can have us get your heater installed while working on other elements.
If you are worried about the heater's durability and performance, a good heater can last for over two decades. We will worry about getting you the most durable and low-maintenance one. Rest assured. We are here to cover all your needs.
Call or email our team for more information. You can also use our contact form to request pool heater installation in Wellington and nearby areas.
Below is our list of additional services: