Pool Refinishing Services for Wellington Residents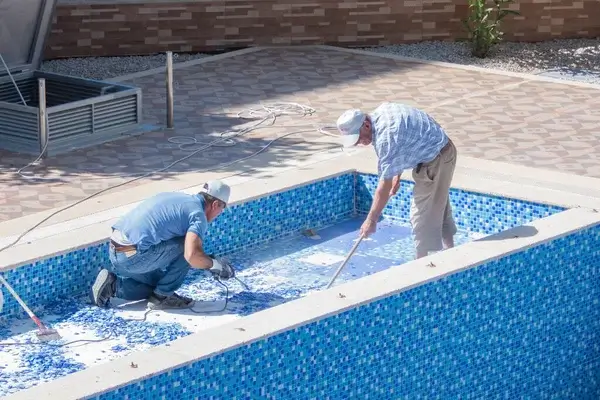 If you are familiar with pool deck resurfacing, you may think this is the same. After all, pool refinishing is also known as pool resurfacing, but some variations exist. First, you don't use the same materials and types for your pool's surface. You need to consider how the feature will perform, your preferences in aesthetics, and the fact this material will be exposed to chemicals and chlorine. Additionally, you have to worry about how safe the surface is, so it isn't as slippery when people dive into your feature. We can guide you in this process at SoFlo Pool Decks and Pavers of Wellington.
We have been working with the service for over two decades. We understand what it takes to have your entire pool refinished, so it continues performing well and works. But do you know when this is needed or not? Or how do you have to work with this entire project?
In most cases, people choose to refinish their pools based on how damaged it is. If it has cracks, filtrations, or some hollows, refinishing it with your fiberglass, vinyl, or more can be the solution. However, if you are trying to do it to change the design and style, you can be more creative with it.
Our company addresses any of the two. You can come to us and ask for the service for aesthetical or functional purposes. Maybe you have both and decided it is time to dedicate time and effort.
We want you to know that, above anything else, we will focus on your repairs and needs. What does this mean? If you have a pool in poor condition and it needs this maintenance service, we will focus on how it can perform well. Then, we will consider the preferences you have in style and designs.
Don't get us wrong. We are here to balance both and meet your needs and desires in this process. But we do have to prioritize covering all the cracks and damage in your pool so it is safe and can be used all you want.
How Can Our Team Refinish Your Pool?
---
We have common options with vinyl and fiberglass. You can also opt for concrete with us and how we use polymers for your projects. Everything will depend on the current finish of your pool if you want to change it, and your budget.
One type of finish will be more expensive than the other. Another will be more durable and long-lasting. But maybe there is one that is more stunning and suits your preferences in design.
In those cases, we bring you multiple options for the design and style. In this way, you can work around your current needs for refinishing and keep the type you want for your space.
At SoFlo Pool Decks and Pavers of Wellington, you access these three main options:
You won't have to worry about refinishing them in the long run. The beauty of vinyl liners is that they can be replaced. However, unlike other options like fiberglass or concrete, it can last over eight years. Some pool owners find themselves replacing the liners every five years. However, this is rare in cases where the pool experiments with high foot traffic.
The cost makes it more appealing, not only in the liners presentation but the material itself. You get to pay about $1 to $6 per square foot, usually including the installation. With us, we have either these rates or an increase of some cents based on the pool's condition and size.
The problem with vinyl is that you may not like the plastic aesthetics it offers. We can help you by working with the material differently or focusing on how we can add color to the finish.
This is the most popular option for refinishing. You get a smooth coating lasting over six years with little maintenance. You can get multiple colors and designs based on how our experts work with the material.
In our case, we recommend it when you want a simple yet unique finish for your pool. It will look clean and feel different if you have textures, tiles, and finishes around your pool area.
This is usually when you need another service: replastering your pool. Although concrete can be used to refinish your surface, especially when made of cement, the best option is plastering.
It will seal your cracks and all the hollows. Then, bring a unique and clean surface where you can install tiles or go for other materials.
However, if you want to consider concrete, you will need to know that epoxy and polymer are used instead. You can apply them over the current finish or scrub the old one. Depending on your request, the result will be a specific texture or smooth finish.
Should You Refinish Your Pool?
---
If you aren't confident about needing the service, this is what we let you know:
You will need to refinish if you see many cracks, filtrations, or damage overall. This will restore your pool's condition and ensure its durability and longevity remain.

Do you like the current finish you have? Applying another and different coat is always an option. Maybe this is what you need to change your pool's style and design.

When going over renovations or remodeling, you want to refinish the pool, especially when you don't know how long it has been in bad shape. This will ensure you don't have future problems with how water filtrates or how safe the pool is.
If you are in doubt, feel free to contact our team anytime. W will schedule a visit and see your pool's condition. Then, focus on how we can help you with refinishing or other solutions.
We provide a free estimate, so don't feel pressured about hiring us immediately or getting a quote from our team.
Below is our list of additional services: