Pool Repainting Services for Wellington Residents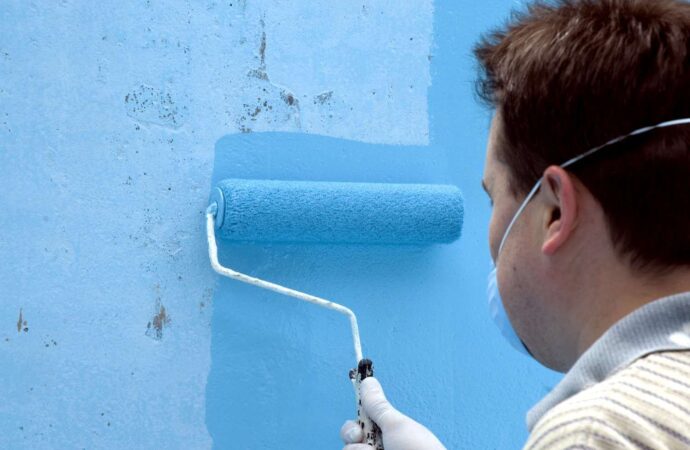 Choosing to paint your pool might not be the best decision. It usually comes with more regular maintenance, and you must properly take care of the painting in the short and long run. Although you can find high-quality paint and get the work done with the right equipment, quality will always be compromised. What if what you need is pool repainting? Maybe because your current paint is old or it is discolored. In this case, focus on finding professionals who can deliver stunning results. We take our role seriously at SoFlo Pool Decks and Pavers of Wellington. We want to make sure you are satisfied and happy with the results.
To do so, we work with high-quality products and materials. Our experts and painters are well-equipped and will know how to complete your project. Otherwise, we wouldn't be here offering the service to all pool owners in the city and area.
We don't want you to think you are alone or have to handle this job alone. With our experts and contractors, you can rest assured that your painting will be done professionally and last many more years.
How can we guarantee that your pool will look stunning? What about the paint's durability and longevity? Our company is focused on delivering quality. As mentioned before, we work with top-quality products. But how we work around your needs and preferences makes up for achieving top results.
When you contact us and request pool repainting, we will consider the design and painting result that you want. For this, we have to consider your preferences in color and textures and if you have any particular requests for the painting. If so, we must know before continuing with the project. If not, leave it to our team to bring the top-quality paint and start working.
Keep in mind that you are always included in this service and process. This means you have our team's full support while we listen to your request and what you want. This way, you get the specific result for your painting and won't have to worry about details or repeat the process.
How Do We Repaint Your Pool?
---
We start by inspecting it. We need to know if your pool truly needs this painting service or if what you are looking for is more inclined to resurfacing. Most pool owners mistake repainting for how they have to handle some repairs or discoloration. In other cases, you must worry about washing and cleaning the walls and surfaces, not painting them.
Our contractors can determine all this before taking another step. Depending on what you need and what we see in your pool, we will let you know how the process follows.
We will give you options around your needs and budget for any service, including this pool repainting. We follow a specific procedure that allows for a straightforward request from you. For instance, you can have our team work with you right after you contact us:
You need to call or email us first. You are taking the first step and having our contractors schedule a visit to see your pool.

We will inspect your pool for free and provide an estimate around this assessment. Rest assured. We are here to focus on your current needs and tell you if repainting is needed.

If so, we will proceed to give you the estimate that will include all the materials, products, and rates for our service.
You can work with us immediately or take your time to hire us. We won't compromise you to contact the team just because of our visit.
If you choose to paint the pool with us, our process works in the following way:
We choose the right type of paint based on the color, texture, and design you want. Your pool type and the current paint on your surfaces matter as well.

We drain the pool to make sure we can prime the space.

We need to scrub the current paint and walls. Then etch the surface and focus on keeping everything dry.

We will tape up all the tiles or extra features and elements we don't want to get dirty.

The paint and equipment or tools should be ready at this point. Our team will move it to the pool itself and prepare to start painting.

We let the paint dry and apply an extra coat if needed. In most cases, it isn't. this is due to the type of paint used and how our team performs the repainting for you.
How Much Will Pool Repainting Cost? And How Long Will It Last?
---
Repainting isn't actually expensive. You can spend around $1 to $2 per square foot, and if the right type of paint is used, you don't have to worry about it for the next 2+ years.
The issue with paint is that due to chemicals like chlorine, it wears out easily compared to other surfacing options. Brick pavers, tiles, fiberglass, vinyl and more. All of them are resistant and can last over a decade. But this isn't without resurfacing or providing maintenance either.
In our case, we focus on ensuring that your paint can last over three years minimum. We don't want you to repeat this process over and over again. Although it will be required for most pools, you shouldn't have to repaint every few months or yearly.
Contact SoFlo Pool Decks and Pavers of Wellington today for a free project estimate. With this in mind, you will learn that our rates vary depending on the project. You can have our team adapt the rates to your budget and we will find solutions.
Depending on how complex repainting your pool is, prices can go higher. However, we keep the rate at $1 for most projects.
Feel free to use our contact form or call and email our team for more information.
Below is our list of additional services: