Pool Deck Restoration Services for Wellington Residents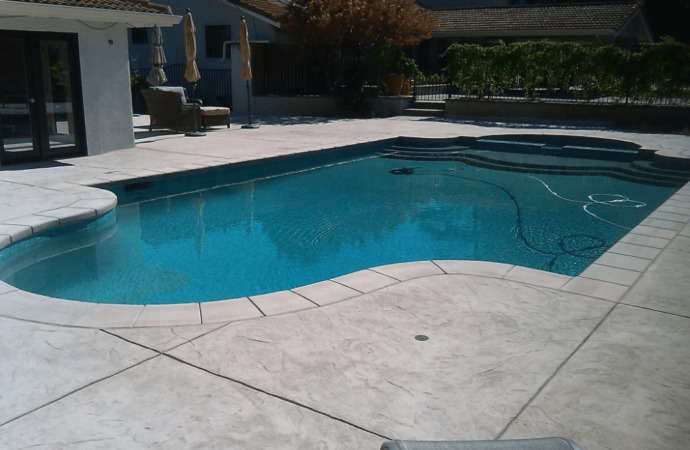 If you have an old deck that has seen better days, you shouldn't discard it. We know restoring it can take a lot of time and work, but have you ever thought about how worth that would be? If you keep the pool, you better focus on the deck. Thus, consider the options and how you can bring a new design and style. You could also focus on restoring it in terms of safety and durability. Our team can help you fit your pool deck restoration within a budget so you can worry less about expenses and enjoy the experience more.
At SoFlo Pool Decks and Pavers of Wellington, we have been working with this service for over 15 years. Although we are specialists in everything we offer and love the services available, restoring pool decks has a special place in our hearts. We love seeing the changes, and how a damaged and abandoned deck can transform into a paradise.
Of course, you don't need to destroy your pool deck to rely on our services. We can work on a restoration focused on the needed areas and spaces. For instance, you may need to resurface, but the rest of your features are in good condition.
You can have our team visit to determine whether you need a massive project. It is also welcome if you have an idea of what you want for your pool deck. Remember, we are here for you and your needs. Although we will be your support and contractors, you have the first and last word.
What does this mean? Our pool deck restoration service works in the following way:
You contact us via email or phone or by filling out our contact form.

Our team will get back to you with an answer to all your questions and the information requested. If you are open to it, we can schedule a visit. Our contractors will get there and inspect your pool deck.

Once we finish the inspection, we will let you know what can be done. For this, we must know about your priorities and how you want us to approach this project. Do you want to focus on repairs or maybe aesthetics? Probably both?

We can estimate the price once we come up with a middle point in everything you want and need.

You can choose to work with us right away or at a later date.
We are here to focus on what your pool deck needs. The restoration may take a lot of work due to its condition, but if you want to tackle this project in parts, this is allowed too.
For instance, you can request all the repairs and resurfacing. But if you want to focus on the design and style later, we will return when you are ready. Don't feel pressured about how you should approach this service.
Does Pool Deck Restoration Involve Resurfacing Only?
---
This is a misconception about restoring a pool deck. Most of the time, yes, you do need to resurface it. This is because most of these areas are very old and damaged, and the only way to fix them is to resurface the entire space. However, this is often the most affordable solution instead of individually reviewing all the cracks or repairs.
But all this doesn't mean resurfacing is everything you can do when restoring your deck. You can approach the service and project in multiple ways. First, you can focus on repairs only. Dealing with cracks, filtrations, and some features ensures everything is safe. Secondly, you can aim for more features and additions. Although this isn't entirely restoration, it is possible to work with enhancing your pool deck.
Finally, you get the option of a full service. This includes repairs, cleaning the space, applying new coats, and resurfacing. If you want to add new features and develop a brand-new design for your deck, this is the whole point of large-scale projects.
Does this mean our contractors can design your pool deck from scratch? Absolutely.
If you are worried about us being unable to cover your needs, don't be. We are here to bring different solutions and ensure you can have your entire pool deck restored and looking exactly how you want it.
How Does Our Team Get You the Pool Deck of Your Dreams?
---
We need to know about you and your ideas. We want to know the colors you like, if you have preferences in surfacing if some features should be added, and more. This way, we will have a list of things we should include, along with the ones that go over the repairs and priorities.
We will find the balance in everything and focus on designing a new pool deck for you. The restoration will occur when you are happy with the design and price.
Remember that our SoFlo Pool Decks and Pavers of Wellington team focuses on a detailed quote. You will have the materials and products listed. Every step taken to get your pool deck restored will be included, and the prices and rates for everything will be next to their respective counterparts.
We will work on the design and features you want. If you are aiming for something that cannot be achieved due to a lack of space or any other reason, we will let you know immediately and devise an alternative.
We are here to satisfy your needs and make you happy. We don't want you to struggle or worry about how you won't have the best considering your investment.
Feel free to call or email us. You can use our contact form to request more details and information about our service. If you want us to start working on it and schedule the visit, do it today! We are available all year round for your needs and projects.
Below is our list of additional services: