Pool Deck Resurfacing for Bella Terra HOA Residents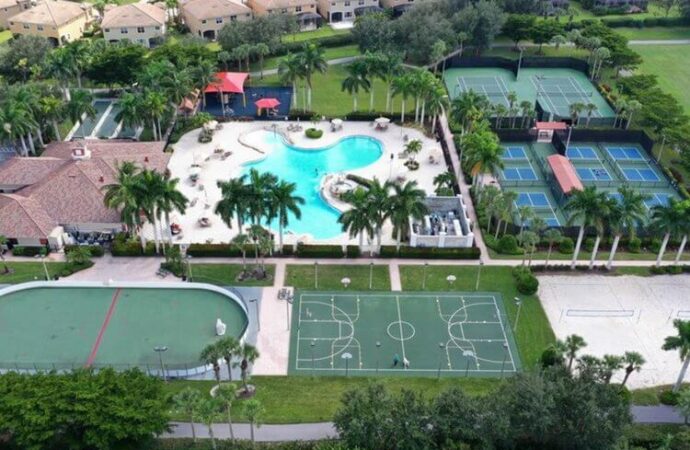 Part of living in Florida is being in stunning communities and areas. You can enjoy multiple amenities if you are part of a home association and worry less about continuous amenities or specific project expenses. The reason is that the managers and members of the association will take care of most of your problems. This includes having the pool area look stunning and perform properly for all the use owners want to give them. At SoFlo Pool Decks and Pavers of Wellington, we are the team that allows you to enjoy your spaces.
We work with Bella Terra HOA, so pool areas are neat, safe, and enjoyable. But how does this influence your living experience? Well, if your community has regular amenities, you want to be able to visit and use them whenever you want. Your green spaces and every other area in the community should be in perfect condition.
But what happens when it is your pool and your private area? The association can handle it if it is part of the community's agreement. Our role in this is to provide the support and services needed to keep all your pool areas clean, stunning, and functional.
In Bella Terra, we work with the common areas. We provide pool deck repairs, focus on renovations when requested, and even bring recommendations to improve the space. If you are worried about your personal property and pool, we can deliver the same services and support. All this is under better conditions than relying on an individual company unrelated to your home association.
Put simply, we offer better deals and great services and are always there for any project and need you to have. We are confident about being the contractors needed since our services list includes multiple solutions:
Pool deck repairs.

Pool remodeling.

Pool deck resurfacing.

Pool repainting.

Pool refinishing.

Multiple surfacing options: eurotile, brick pavers, stamped concrete, travertine, and more.

We still have 9+ other services waiting for you.
How Can We Guarantee Your Satisfaction?
---
By focusing on your needs and your requests. We want to ensure you get all the support and help you need. This is why we have been including more solutions over the years. We started with pool deck resurfacing and the wide variety of surfaces we work with for you.
Nevertheless, repairs, maintenance, and pool acid washing—to mention a few—have been added over the past decade. They are perfect for keeping all pool areas in good condition and making them more enjoyable.
For instance, most homeowners in this HOA have requested pool heater installation and pool equipment upgrades. The latter can involve adding more features, such as automatic systems for your pumps or maybe an aesthetical feature like pool bubblers.
There is nothing we cannot do, and if you don't see it on our list, ask away! We will accommodate your request and focus on what our contractors can do for you in every aspect.
Below is our list of additional services: