SoFlo Pool Decks and Pavers of Wellington Services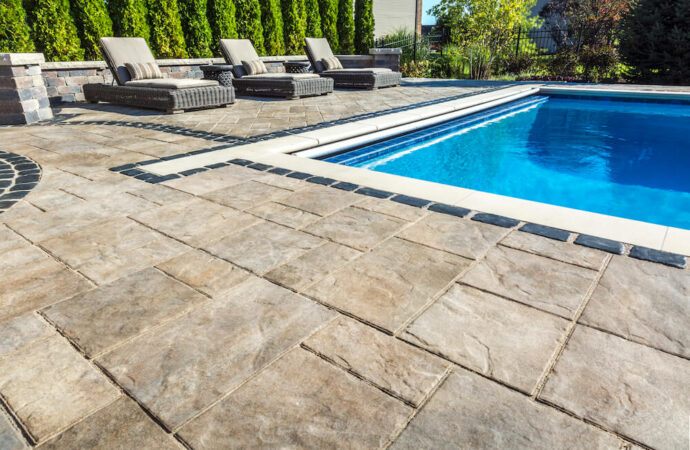 Pool deck resurfacing is a project that professionals must handle. SoFlo Pool Decks and Pavers of Wellington is the best option among them. We provide residential and commercial owners with all the top-quality surfacing options in the industry. You can expect us to cover multiple requests and needs when reaching out. Those include working with the loved brick pavers or going over concrete and eurotile. We know how to work with each material to guarantee durability and aesthetics. Additionally, all the results we achieve will be safe for you to use your pool area without worries.
What you must know is that our company focuses on specific solutions. You can find various services aimed at the multiple surfaces and materials we use. However, we can handle any specific requests, such as pool deck repairs or pool remodeling. You won't have to find multiple companies and can rest assured your project will be in the best hands. However, before you work with our team, let us know what you want. We will adapt our support to you and focus on finding a solution.
We want you to know you are our priority in any process. We will focus on what you want but also what you need. This is why multiple recommendations are provided during the process. Our contractors help you assemble everything and decide what you need to do with your project. We are quite proud of this as it allows us to deliver better assistance and solutions.
When trying to find reliable and qualified pool deck resurfacing contractors in Wellington, we are happy to be the #1 option for both residential and commercial pool owners. SoFlo Pool Decks and Pavers of Wellington is a top company in the area that has helped all pool owners for over 20 years. We know what it takes to have a stunning yet durable and long-lasting result that will allow you to enjoy your deck and pool area for several years and avoid having to deal with repairs and more maintenance than you should be providing.
We have been servicing Wellington and nearby areas with the main goal of allowing you to have all the needs and problems covered when they are related to your pool. You won't have to look for more professionals that are most likely unable to deliver the exact results you want, and you don't actually want to have different contractors working in a single space when they aren't from the same company.
We are able to offer all solutions and make sure you can choose between all the materials and surfaces, get to see the design and plan we have for your pool area or deck and the timeframe for it, so you know when you will be able to enjoy every single detail and feature.
That being said, how far can we go when it comes to our services? Well, it all depends on what you need and are trying to get, but if you are wondering based on the list of services available, you can have a look at it right below:
Make sure to contact us for more information about the service you need, or allow our team to provide guidance regarding what you may need based on the state of your pool deck or entire area!
Below is our list of additional services: