Commercial Pool Deck Resurfacing Services for Wellington Homes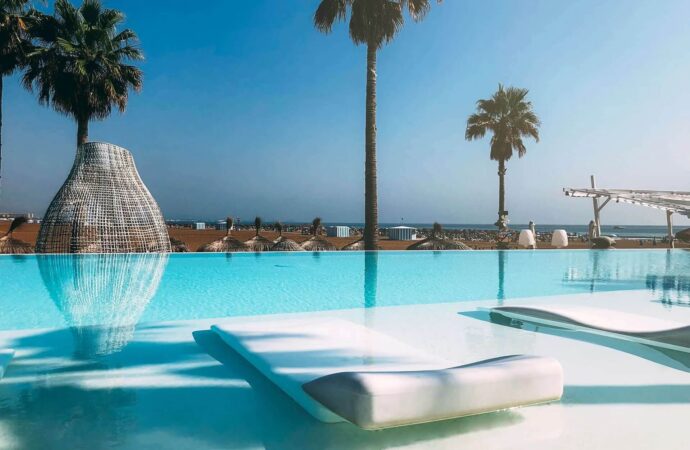 If you are a business trying to attract more clients, commercial pool deck resurfacing is a good way to do it. Changing your pool's appearance or look can become a new attraction for regular or new customers. Thus, the investment may sometimes be high depending on your pool deck's size. But it has a great return on investment once you bring more business. SoFlo Pool Decks and Pavers of Wellington can make this possible with its qualified team. We have worked in the industry for over 15 years and have every surface option for your space.
What we will do is focus on your needs. Although you may worry about the appearance and design, we want to first aim for the damage or functional aspects. Thus, we will start there if your pool deck is damaged or requires repairs. Then, we can worry about your request around the surface and the design you want to achieve. Of course, how your pool deck looks is not less important, but it drops in the steps you must follow. In other words, don't worry. We will keep a close eye on the surface you want and all the processes after we deal with the damage—if needed.
Our team will help you make decisions and review the different options if you are not confident about what is needed. Maybe you don't know what blends well with all your property. Or maybe you want something different yet unique. We will be there for the simple and tough parts. Thus, contact us if you have any special requests.
Commercial pool owners who need to bring a new design or just work around their pool decks to offer a better experience to their guests and customers often have a hard time finding pool deck contractors who can provide top-quality services and deliver great results at a reasonable price. Our team at SoFlo Pool Decks and Pavers of Wellington is quite aware of this, which is why we are always doing our best to allow all people to get the most out of their investment and ensure you get commercial pool deck resurfacing under fair conditions and circumstances. We want you to have a durable, long-lasting, and stunning surface.
We have over 19 years of experience in this field and are confident that you will enjoy the great results we deliver due to how much attention we put into details and what needs to be done. You will also be pleasantly surprised at what we can do for you and how we guide you in every step, so you don't regret your decision. We take pride in what we do and have continually improved our services and methods over the years to provide top-quality solutions for every commercial owner in the area.
So you get the best results, we have skilled contractors who can handle the materials. It is important to ensure durability and longevity, and that is what we are most concerned about, but this does not mean we will neglect aesthetics and how your pool deck will look regardless of the material and type of surface you end up choosing for your space.
We know that many people are curious about this question: How can I determine if my commercial property is eligible to receive pool deck resurfacing or if it is just part of another service and solution?
Well, if you don't have your pool for residential use, then it is pretty much a commercial one, even if it is a bit more exclusive than the regular pools you can find in hotels and so on.
Commercial properties can have a pool and deck, regardless of whether they own the property or not, so there is a grey area in all this, but quite amazing. As long as it is commercially focused, we are happy to assist you with this service; if not, we will find the most suitable one on our list and guide you through it. 
We are well aware that commercial properties, such as hotels and casinos, apartments, office buildings, and spaces with pool decks, will require our assistance to create stunning spaces that offer safety and great durability as well.
These areas are very well-known to us, and we can help get the best out of your pool deck. So, if you trust our experts, you can rest assured that you will receive the following:
We will make sure that repairs are completed with a new coating, and you won't have to worry about paying an extra service for it.
It is important to have a fresh design and a clean look. We can help you make the right choices regarding colors, textures, materials, or just all of them.
Safety and comfort are important, so ensure that the surface isn't slippery, and we focus on this. You can achieve this with any of the available materials and resurfacing options.
How Much Time Do You Need to Invest?
It all depends on how large the deck is, what design you choose, and the preparations needed before we can begin any project since everything varies depending on the specific deck we are working with. 
Without proper information and a view of the area where the job will take place, it is difficult to estimate the average cost and time required for resurfacing. It is all about creating a custom service and design. This is why we usually insist on assessing the pool deck after you have made the decision to work with our team on your project.
Now, when you choose us as your professionals, we want you to know that we value all things. As professionals, we respect deadlines and will make sure you get the project done in no time so you don't have to lose business or can even get more in less time.
Design and type of resurfacing will play a major role in your decision. The size of your pool deck is very important as well. However, it's possible for a surface to be completed in just a few days if you choose the easier option or go for, the less time-consuming one.
If you have a particular design in mind that requires additional colors, textures, or patterns, the deadline must be extended accordingly or will inevitably take more time.
How Much Do You Need to Pay for Commercial Pool Deck Resurfacing?
Sometimes, resurfacing can be cheaper, but it all depends on what you choose and what your needs are. The same variables apply to the timeframe that we can assign for the project and how the professionals you choose will deal with the entire project.
SoFlo Pool Decks and Pavers of Wellington contractors are here to help you with your commercial project. We can help you choose and negotiate a price that suits your budget. We will provide you with a free estimate before we begin any work.
However, we will need some information to make sure you get the most accurate estimate and have a good idea of how much your project will cost. The size of the deck, the design you want, your needs, and if there are any repairs needed must be included when sending the information to our team.
We are happy to visit your space and provide a cost estimate based on what we see and find during the assessment. If you prefer, you can contact us via email or telephone. We will be happy to help you in any way that we can. Also, remember that it is faster to assess the space in person before you decide to work with us, but we will adapt to what you would like more.
Below is our list of additional services: