Pool Deck Resurfacing for Greenacres Residents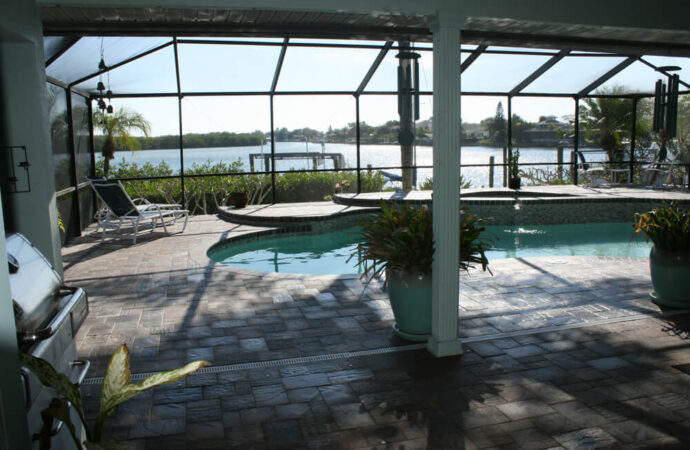 Pool deck resurfacing proves to be tough when you don't have the right contractors. Fortunately, our SoFlo Pool Decks and Pavers of Wellington team has been serving Greenacres for the past ten years. We help residential and commercial owners equally and ensure the resurfacing is done neatly. This goes to any type of surface you decide to have next. We always ensure the most stunning results while worrying about durability and longevity. Thus, any of the materials and types of surfaces you can find among our services will meet your needs and save you time and resources.
Besides resurfacing, we can work on full projects or small-scale solutions. For instance, you may need to repair cracks and filtrations in your pool deck. Or maybe you want to handle a full remodeling project. We will be there with our team of contractors to ensure you have a hand or two for the process. Our support and assistance in projects include design, planning, and estimation. Inspection is also performed before we can even provide you with the right solution and free estimate. Let us know when and where you need us so we can start.
Rest assured. You can place any request and have our team consider your budget. As we know, most people are worried about expenses. You may want to know how we address them. We care about you, the pool deck, and your project. Thus, count on us and have our work on all your ideas.
Greenacres is one of our favorite places in Florida, and for a very good reason: every pool area looks stunning, and people tend to take it further by worrying about every corner of their outdoor spaces. We know best as our team at SoFlo Pool Decks and Pavers of Wellington has been helping all owners with the design and entire process of achieving the desired result. We want every space to be perfect in terms of aesthetics and also durability, and longevity. This is why we encourage you to rely on us if you need pool deck resurfacing and more such as:
Pool remodeling.

Pool coping.

Kool decking.

Pool lighting.

Pool deck repairs.

And much more.
We have been serving homeowners and commercial property owners for over 17 years in the city, and we always make sure they are happy with the final result and what we are able to achieve for them. This includes the regular resurfacing and remodeling people usually want or any other extra feature and solution they need and are trying to get with the help of contractors and experienced people.
Making sure everything is on point and that you don't have to go back to it over and over again is our main goal since most contractors seem to ignore the fact that aesthetics aren't everything, and that durability and longevity play, in fact, a bigger role in all this.
Allow our team to be there to provide options that guarantee all three factors since we know one is more important than the other, but this is individual. If you want a truly stunning pool area, you will need to give every factor and aspect their time to shine. What makes us the best at doing this is how we deal with them in order, so you have a good result that meets every need and request you have.
Contact Us for Our Pool Remodeling Service
If you are a pool owner, you will want to resurface at some point, but what about remodeling the pool space and not only the deck? Of course, resurfacing is actually part of remodeling because it involves a great part of the pool itself, but we go further when it comes to an entire pool remodeling project.
We will make recommendations and make sure you are happy with every detail, corner, and feature that is added to the space. In this way, you won't have to go over all features one by one or separately after you have resurfaced your deck or worked on a bigger project.
We will be there for you and guarantee that you won't have to go back to the design and the entire project once we finish and deliver the result you want.
For other services, such as pool lighting or maybe repairing your pool deck alone, you can call and email our team, and we will be there in no time, delivering the best support and services you need for your pool area.
Below is our list of additional services: