Pool Deck Resurfacing for Versailles HOA Residents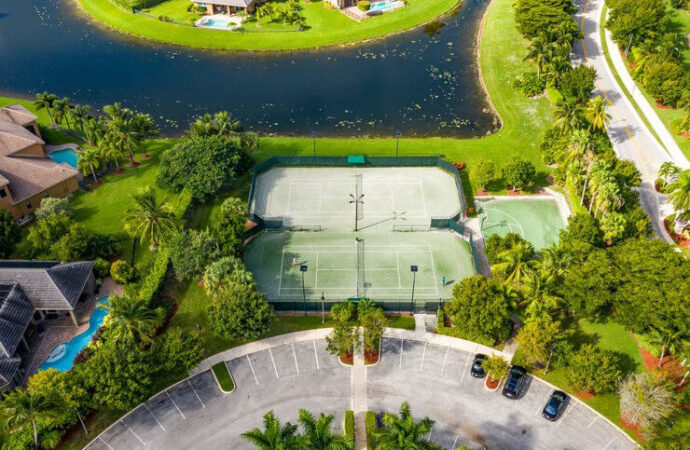 Needing pool deck resurfacing and pool acid wash is common. With time, your pool area wears out, and performing services to keep it in good condition will be part of your tasks. The question is, can you find the right people to perform the services? After all, quality is crucial if you want to avoid spending more time and money in the process. At SoFlo Pool Decks and Pavers of Wellington, we offer our support in Versailles HOA and the entire area.
We have been working with all owners for the past decade. While doing so, we have guaranteed stunning pools and clean spaces that can be enjoyed and are safe for all users. The way we do this is by focusing on multiple services:
Pool deck resurfacing: we repair your pool deck with the right surface or bring a new design and style. You don't have to look at resurfacing as a bad thing but rather as a new opportunity. With the options and materials we have available, you also get amazing results. Durability, longevity, and aesthetically pleasing looks are what we care for.
Pool acid wash: we provide this chemical option to remove all grime and build-up from your pool. Our team will brush and scrub the algae and sediment at the bottom or in your inner walls.

Pool remodeling: any change and project can be tackled by us. We will change your pool type and different features and focus on how you can have a brand-new pool. If you are aiming for small changes, this is possible as well.

Pool deck renovation: this usually comes with resurfacing. However, small changes and additions are possible to make it more enjoyable and safer.
We have 10+ other services waiting for you that are focused on your projects and needs. For instance, a pool equipment upgrade is one you will require at some point. This can be because you want to include a new system like automatic pumps or work with renovating your connections and other features.
How to Access Our Services in the Area
---
All it takes is a call or email. You can also contact our team via the contact form and ask all your questions.
We want you to know that we don't force you to hire us immediately. Instead, you can schedule a visit and have our team inspect the pool and determine what is needed. If you don't know, we do this last part. If you already know the service you need, we can give you an estimate. This process is free of charge, and you have all the time to consider hiring us.
This applies to the different solutions offered in the company. Resurfacing, repainting, remodeling, and more. We are here to focus on your needs and accommodate them. If you are the HOA itself and need multiple solutions and services for your community, feel free to reach out.
SoFlo Pool Decks and Pavers of Wellington is available all year round, and we would love to work with you.
Below is our list of additional services: