Pool Deck Resurfacing for Boynton Beach Residents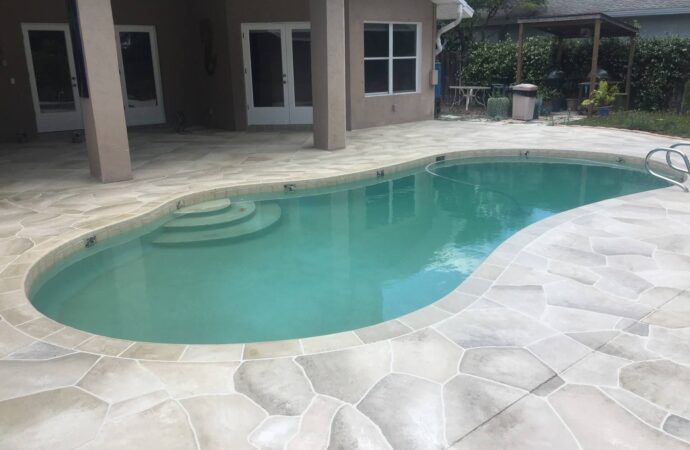 Boynton Beach is known for its stunning outdoors and landscapes. You can expect to see houses and businesses with the best pools and amazing features. Companies who work in the industry to achieve the best are what make this possible. At SoFlo Pool Decks and Pavers of Wellington, we work to achieve the exact result you expect and more. This way, you can enjoy a pool in the city every day. However, there's no need to worry if you are looking for more than aesthetics.
We consider everything about durability and longevity. How things should be done, what you truly need, what you can afford, and more. We care about what must be done so the result is satisfactory and you get what you want for your pool deck. Of course, since we work with this part of your outdoor, you can expect us to be involved. This includes resurfacing, repairing cracks or damage, and dealing with a full lighting system if needed. We will ensure you have the best contractors in your space.
But are we truly going that far? Absolutely. We want you to have professionals working with quality materials and equipment. But these will be just the complements of their skills and expertise. Thus, feel free to contact us if you are looking for a competent and reliable company. We would love to be the ones handling all your needs and projects.
Boynton Beach is one of those places that people want to visit and live in due to how stunning every detail is, including the outdoor spaces and pools you can find throughout the city. If you already live in it or own a specific commercial property with a pool and, of course, its respective deck, then you know how crucial it is to worry about the design, aesthetics, durability, and longevity of every part of it. Our team at SoFlo Pool Decks and Pavers of Wellington will help you with every project you have for your pool area, be it resurfacing or maybe pool lighting. We will be there for you and ensure you have a durable and long-lasting result.
We worry more than anything else about how much this pool deck or entire feature will offer you. Yes, we have aesthetics and how the pool looks as part of our priorities, but we want to make sure you are happy with every extension of it. This means you should worry about more than how it looks and focus on how many problems it may give you.
As professionals who have been working in this industry for almost a decade and have seen a lot, we can tell you something: many pool areas look AMAZING, but people are left with poor materials and installations that bring issues in the long run, if not the short one.
Repairs and maintenance shouldn't be performed as often as you think, and a good resurfacing project should be able to last, for instance, ten years or more, with little money invested in keeping it going.
This is why we encourage you to have our team as the contractors you need since we will make sure that you are happy with the result, and there's nothing else to worry about afterward.
How Far Do We Go for You?
We will take care of the designing and planning process, but to get there, we will need to learn more about you, what you want, and how we can help you in terms of the preferences and needs you have for the design and structure of the pool.
If you are reaching out to have our experts work around your pool deck resurfacing or maybe remodeling, we will need to know what surfaces you prefer and which ones you don't. The same pretty much applies to lighting or even repairs since all the details will be influential when you get to see your space like new, thanks to our service.
Once we finish or complete the assessment phase and get to know the space, we will finish the design and planning and wait for you to approve everything, including the estimate we will send with all the details and information of what will be done by our team.
Then, we will make sure you are happy during the entire construction, resurfacing, and repair process, or depending on what service you requested, and for any need after we have finished and worked with you, we will be there to support you no matter what.
Contact us to learn more about our team and us!
Below is our list of additional services: