Eurotile Installation Services for Wellington Residents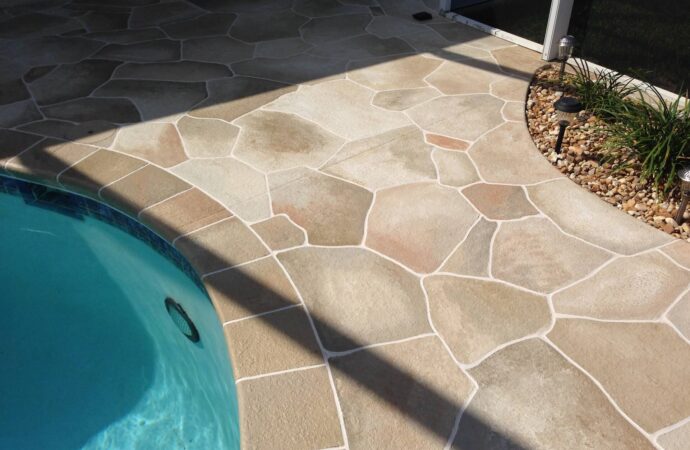 Eurotile is one of those durable and stunning options you can opt for. It can replicate multiple types of surfaces and outlast many of them properly installed. Our SoFlo Pool Decks and Pavers of Wellington team love working with it as it is easier to install and is more affordable. You can have a stunning surface in no time and ensure you don't have to pay the price in the long term. We want you to know in advance before you decide to take on this option that it isn't entirely the same as brick pavers.
As most clients approach us trying to have a deck resurfaced with brick pavers, we tell you, you can get something similar. It won't entirely look like the actual pavers. However, the result is quite similar and you can have the same durability with even fewer repairs and less maintenance. We can guarantee this as our contractors are experienced and qualified in eurotile. They know how to provide installation and post services when needed. Additionally, we equip them properly and only use top-quality products to ensure the best outcome.
Since we want you to consider this option with all pros and cons in mind, we start here. We will educate you about the surface and what you get and don't with it. Then, you can have our team plan the design and process if you decide it suits your needs. We will get you a sophisticated look. Or maybe an elegant design with a shiny finish. Maybe you want to save money only and have a smooth and neat result.
Whenever someone asks us about pool deck resurfacing and what materials or options they have available, they always think that concrete or brick pavers are the only ones they will choose in the end. However, those can be quite expensive, and they are not always the best options, regardless of their popularity. We think about your budget, needs, and best interests, which is why we encourage you to learn a bit more about other options, such as eurotile. At SoFlo Pool Decks and Pavers of Wellington, we have been working with this type of surface for over ten years, and we make sure it helps you achieve everything it promises:
A durable surface.

A stunning design.

You get to replicate or imitate different types of surfaces.

The longevity will save you time and money in the short and long run.
This option can give you a sophisticated and elegant look or bring a more traditional design depending on how you use all the materials and the contractors' experience. Concrete and brick pavers are considered easier to use due to just installing them, but eurotile is a viable option that will save you money and time. 
You will need to weigh each material's pros and cons when working on pool decks. You don't need to worry about hiring professionals who will be unprofessional when you have us right here, so this alone will save you a lot of time while weighing all the benefits or disadvantages. Our team is fully qualified and dedicated to achieving the best results.
We often place importance on the strength and durability of eurotile when weighing its pros and cons. You can have a beautiful, clean surface for more than a decade, and you won't need to worry as much about maintaining your surface as other surfaces, as long as it is installed correctly since it offers easy ways to clean and maintain it.
Before you decide to use our service, it is important to learn about eurotile, and we will make sure of this by providing all the information and details when you contact us.
Take Notice: What You Need to Remember About Eurotile
We understand that you might be nervous about the many options available for your pool deck, and among them, we doubt eurotile ever crossed your mind, and if it did, that partially explains why you are here.
That being said, we want you to know that eurotile is durable and long-lasting, so it can be used in many applications. Eurotile is much easier to install than most other surfaces and materials, absorbing water better and keeping the surface dry longer. This is an important aspect to consider when designing your pool and having the deck ready, so we are confident that in this factor, it is winning.
Eurotile has seen a lot of popularity in the last few years in our company at least. It is made from acrylic and concrete and has heat-blocking properties that are very beneficial for the local weather conditions that continuously heat tiles or other types of surfaces.
Our team can create the perfect design and ensure you get all the previous benefits while you get to imitate surfaces such as tiles, concrete, brick pavers, and more. This requires that you are able to correctly use the material. Our experience in this area goes back more than a decade. We'll ensure that your space looks amazing and has no quality issues.
Some benefits you should keep in mind about eurotile include the following:
There are many styles and looks to choose from that will appeal to the eye, so you won't have to worry about sticking to one.

The material is described in two words: strong and solid. If you are looking to maximize your investment, this is the right choice, and we will make sure you get the most out of your investment.

It is strong enough to withstand heavy loads and extreme weather conditions, so you won't have to worry about rain, some furniture or items being moved into the area, and more.

This is an excellent option for first- or second-time surfacing since it brings a durable result that will save you time and money.

It won't break down for more than a decade.

It is safe, and it won't leave you with any bacteria that you need to manage every day. It's safe and effective, and it is all about keeping it clean with little effort.
For more information about our pool deck services, please contact us. We will bring eurotile to you and give you all the information that you require. If you're looking for durable and specific designs at an affordable cost, this product is a great choice.
All the Designs That You Can Get with It
Different surfaces and colors can be reproduced. You can also customize the colors to match your outdoor space or pool deck, and everything will depend on how you want to handle the entire project and final design.
There are almost limitless color options depending on what design you choose. You can even mimic natural stones and Mexican tiles. We will introduce you to all of them so you can have the space and time to choose among the different options before you allow our team to begin with the designing and planning process.
From there, we will take the reins and make sure you get the exact result you saw on the pictures we forwarded or the one you requested from the team.
We will be more than happy to guide you in this process, and keep in mind that besides stones and Mexican tiles, brick pavers and concrete are also options when imitating or replicating some designs with the material in this section.
Contact us today and get your free estimate and all the support you need for this and many more services around your pool area.
Below is our list of additional services: