Pool Deck Resurfacing for Loxahatchee Residents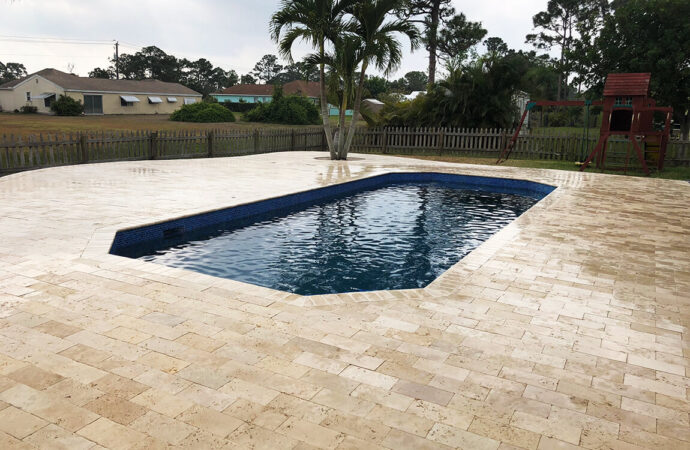 If you live in Loxahatchee, we can resurface your pool deck quickly. With our team, you get to save time and money and have a result that will leave you satisfied and happy. At SoFlo Pool Decks and Pavers of Wellington, we want your happiness and ensure nothing is just "fine" when done. This way, you won't regret resurfacing, repairs, or any change you perform in your pool deck. The best part? We work with only top-quality products and materials. After all, quality and good results start with what you use for the process.
Our team will assess your pool deck and provide recommendations for all your needs. We will let you know if you need repairs, a new coat, or a complete finish. However, if you already know what you want, we will work around it. For instance, brick pavers can be installed if this is what you require for your pool deck. Or we can always find an alternative that is more affordable or adapts more to your liking. Everything can be customized and solved. Thus, don't worry about choosing between an option or two. Don't think about us being annoyed, either. We are here to help.
We would love to help with your commercial or residential pool deck. It doesn't matter if it is a small or large-scale project. We will take it and ensure you get the best. This way, you worry less about repairs or future changes.
Finding help for your pool deck needs and all the projects you may have in mind around your pool can prove to be quite a challenge if you are in Loxahatchee. There are not only too many options and contractors available, but the issue lies in how capable and reliable they are in achieving the result you want. We have made sure that when people rely on our company, SoFlo Pool Decks and Pavers of Wellington, they get the exact result they want, if not one even better.
We don't want you to struggle with your pool deck or get a new surface that is FAR from what you expected, and we are not talking about the aesthetical part only but also the durable and long-lasting characteristics. After all, there is no point in investing a lot of money and time in such a large project if you will just enjoy the result for a few months or years.
You see, your pool deck and entire space should allow you to enjoy it for over five years easily, and the top tends to be 10 to 12 years, but all this while not having to provide as many repairs and maintenance as with other decks that poor installations cause them to crumble in no time.
Make sure you get the desired result that will be guaranteed for over five years and won't make you spend more money than you should in this process. We just want you to be happy, and if you are satisfied with the result, it shouldn't come at the expense of having a stunning result but not a durable one.
This is why we want you to learn about pool deck resurfacing in every aspect. The types of surfaces available, the materials you can use, which one will be better for your space, one that will fit your budget and won't make you have regrets, and so on.
We Work in More than the Physical Part
What does this mean? Our team is here to help you in every aspect, and we won't only arrive at your place and start the heavy work without talking about the details and designs.
Either if you need remodeling, repairs, resurfacing, lighting, or anything else for your pool, we want you to have our help in every single aspect. This is why we want you to focus on how much we can do for you and how, and keep in mind our contractors will be there to help you think and provide all the information you need to make a good decision.
Allow us to be the ones helping you in every step so you have a pool area, not only a deck, that you can enjoy without regrets and worries. Make sure to call or email us, or feel free to visit our team if you are near our offices and prefer to have a face-to-face meeting so we can discuss your needs, preferences, and requests and get you an estimate.
Below is our list of additional services: