Pool Sun Bench Installation Services for Wellington Residents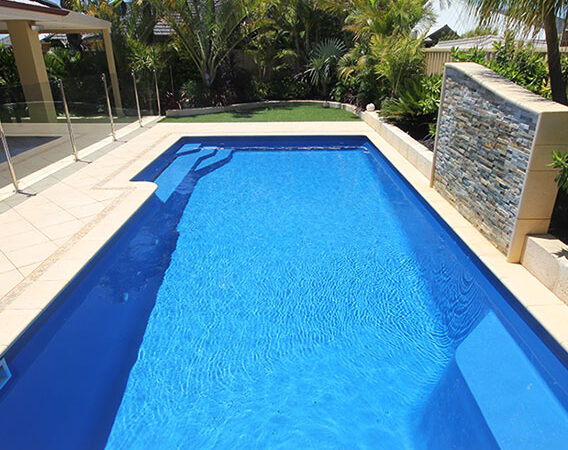 Creating enough areas and spaces to enjoy your pool doesn't need to be a challenge. You can have features around, inside, or separately from the pool. Enjoyment should be exactly what you expect as long as they are properly designed and installed. We highly recommend pool sun bench installation at SoFlo Pool Decks and Pavers of Wellington. It allows for enjoyment and creates a place to sit and relax as you use the feature. All this without worrying about the water and how you would have to deal with it.
They are not as common in residential pools as most homeowners find it unnecessary after thinking about how they can just exit the pool and continue their routine. However, commercial pools find it quite a good addition. Guests can swim and relax on one side of the pool. Or visitors and other users can get in without compromising their whole bodies.
Sun benches can be quite a feature if you consider them useful for your needs and vision. For instance, if you have multiple swimmers that will run exhausted or take the time in the pool, the bench can be more than useful. If it is about having guests and visitors in your commercial property and the pool, it can prove to be what you need to give them relaxation time.
This doesn't mean you cannot install it in your own pool at home. In the end, everything is about use and considerations. If you will use the feature for what it is, or maybe you also want to add some aesthetics, feel free to do so. We would love to be part of the process of installing it so you can enjoy the sun bench.
Can You Install a Pool Bench Anywhere?
---
It will depend on the type of pool you have. Although you can usually install a bench regardless of the pool size, the type is different.
Gunite swimming pools are the common places where you can find sun benches. They are comfortable and due to the material, they are easy to build and install in the structure. The easier it is to customize the material of the pool or the entire structure, the better it is to have a bench. The installation won't take long as everything can be added with the specific tools.
Fiberglass and vinyl pools also enter the category where you can have your bench. However, you must be careful not to damage the edges, the rest of the material, and the surroundings. We can help you determine if your pool can have the feature or not. If it can, we will develop a specific design and idea of how it can be done.
In terms of prices, everything relies on the design, size, and materials used. Sun benches will be installed based on the type of pool and specific materials requested. They usually have to go according to the finish and materials of the pool to continue the same aesthetics. However, they can be changed according to your preferences.
Now, the place where they are installed can vary. They were often placed on the steps of the base pool. Others are placed on the sides and edges to create a dimension and new space. Others are more outside of the pool but quite close to it. We can help you come up with multiple options to choose the most suitable.
If you already know how you want your pool sun bench, let us know, and we will make it possible.
What Do We Recommend?
---
Going with your guts and what you want for your pool.
We don't consider pool sun benches to be a limitation. Although the pool type does matter, you have much freedom to install the bench you want. Thus, take the time to review the different options and how you can make them possible.
Pool sun benches offer opportunities to create a design that would be expensive. For instance, luxury pools are stunning and the favorites among property owners. But not everyone can get one considering the prices.
If you are attracted to them and some infinity pools, zero-entry pools and more, you can have the benches create a similar effect. A good option would be to install a sun bench along the edges of your infinity pool. You will have a place to sit and enjoy the view or experience the entire effect that is quite close due to how the benches look in the pool.
Of course, recommendations can vary. Ideally, you want to have our experts and contractors inspect your pool and listen to your ideas and requests. This way, we can develop a design that suits them and focus on how much you can spend on the project.
This is why we recommend contacting us before anything else. Ask all your questions to our team and allow us to schedule a visit so we can check your property and everything on the pool. Then, determine how to install the pool sun bench in no time.
Keep in mind that our process looks like this:
Contact us first via phone or email or by filling out our contact form.

Our team will get back to you with all the information requested and some additional questions.

If you reply, we will do our best to schedule a visit to have our contractors there and get you a free estimate for the requested job.

We will begin the installation once you have decided to work with us and accepted the final design and price.
Contact our team at SoFlo Pool Decks and Pavers of Wellington anytime. We are here to focus on your project and ensure you can enjoy your space. Remember, we work with residential and commercial owners. Thus, there is no limit to what we can do and for whom we can do it. Get in touch with the contractors today and be part of the experience.
Below is our list of additional services: