Residential Pool Deck Resurfacing Services for Wellington Homes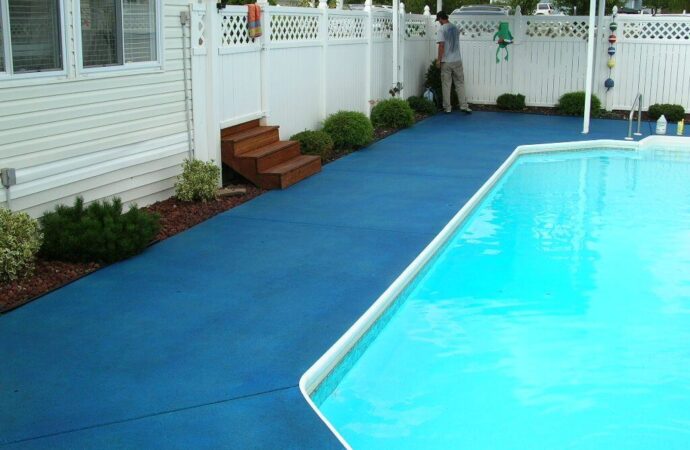 Residential pool deck resurfacing is quite common among homeowners in Wellington. Considering that over 81% of residents have a pool area outdoors, it is necessary. Sometimes, owners want to bring a new look and work around multiple designs and styles they can achieve. The reasons for resurfacing can be many, and everything depends on what you want to do. At SoFlo Pool Decks and Pavers of Wellington, we aim to work around your needs and requests. Thus, regardless of your idea and reason, we will be there.
We have a qualified and experienced group of contractors ready to take on the challenge. You can expect us to start supporting your project with inspection and recommendations. We know it is difficult to make decisions and know why your pool deck may need some services or solutions over others. Or maybe you are trying to decide what surface would be better. Regardless of the case, our team will start by providing guidance in the matter.
Once done, we can design and plan the project. You will see all the steps in a well-drawn map we will prepare for you. It will include the prices for each material and a full estimate to see what you are paying for. Just remember that any request or preference is welcome. If you want to change details or work around an idea you have, it would be better to let our team know before even hiring us. You have enough time and feel free to communicate with us even before you work completely with the team.
Every homeowner in Wellington won't consider residential pool deck resurfacing until their deck looks actually need it because they are either damaged, or something has caused some cracks and filtrations in the surface. What we know is: they won't rely on the service unless it is an emergency 90% of the time. However, the other 10% will go for resurfacing if they want to change the design and style of their pool decks, and our team at SoFlo Pool Decks and Pavers of Wellington is here to help you with this project regardless of the percentage you take part on.
We will provide you with the best service and ensure that you are happy with the final result, so you don't have to work on it again or spend more resources. Before we get into the details, we will explain why you should care about your pool and focus on resurfacing regardless of what your idea is for it. We also have information that will help you understand the benefits of resurfacing and how you can access this service with us.
Let's say you want to know the best way to get this service, or you have a clear idea of why you need it. Or, you want to understand why it is necessary so that you can set a goal and then work towards it. In most cases, pool deck resurfacing doesn't just include fixing cracks or repairing damage to the area. You will need to cover the entire surface of your pool deck, and you can do it based on a design you want to achieve for your space and deal with all the damage in it.
We have been contacted several times by residents in the area to resurface their decks because they were fed up with the old designs and wanted something different. There is no limit or mandatory requirement in our company when it comes to resurfacing, so feel free to reach out if you need our help.
Although we understand that most residential pool owners pay attention to the pool itself and forget about the deck, a deck can be an excellent addition to any space, and it is quite mandatory when you own a pool and want to get the most out of your investment and entire space, and will allow for a more relaxing experience. However, to ensure you get the most out of it, you will need to take care of it with repairs, maintenance, and resurfacing—this latter hopefully later than sooner.
How do you know if resurfacing is right before you hire our team? Or more like, how do you know if you need it for your pool deck right now?
As professionals, our job is to notify you about any issues or problems with your pool deck. To determine if repairs may be necessary, looking out for cracks or damaged areas will be part of our task. You might find that your concrete is getting worn out, causing more problems, or you simply want to modify the design. We will provide you with several options to suit your needs and help you understand why you may need resurfacing or not. However, if you are asking in case, you don't notice a difference, requesting an assessment from our team will be a better idea.
We can help you determine what repairs are feasible and how to proceed. If you hire our service, we will make recommendations and guide you through the entire process.
Do not assume that we are done with the job once we complete the assessment, design, and resurfacing. We will answer all your questions and provide guidance throughout the entire process to ensure that you are satisfied before, during, and after we complete this task and go over all your needs whenever they appear, or you reach out to us.
Remember that we are here to help you make the right decisions and to work with you throughout the planning and execution phases.
Are There Few Options When Choosing a New Surface?
More than having a few, you have several ones you may have a hard time with. There are many options for the style and materials you can use to create a unique space, and many of them will adapt to your budget and what you can get in terms of durability, longevity, and aesthetics.
The design of your property and the size of your pool will depend on what you want and how long we can work with you. There are many options, so take your time and look through them all before you decide on the one that is right for you.
Resurfacing a pool deck is the process of applying a concrete overlay on existing surfaces in most cases, but it doesn't have to be concrete as the main material all the time. You can use other options to make a long-lasting, durable new surface. You have the option to choose the type and design of your deck or pool based on the materials you use and the ones we have available in our company.
The overlay can be customized in many ways. Each option will be shown with photos and examples so that you can see how it will look after the overlay has been applied using our service and professional assistance. Our team will provide you with examples based on the space available and the options that you choose.
SoFlo Pool Decks and Pavers of Wellington contractors offer many options. We'll show you the benefits of each type of resurfacing and how they might look in your pool area once we complete the job.
Pool Deck Resurfacing For Residential Poor Owners
No matter how small or big your pool deck is, our team will be happy to assist you. We will make sure you are happy with the result and that you get the most out of your investment so you can continue to enjoy your pool deck for many years to come without worrying much about repairs or maintenance.
If you have any questions about your deck, don't hesitate to reach out to us. We will gladly help you throughout the process to ensure you are happy with your decision and have a deck that is worth your money and time.
Below is our list of additional services: