Pool Coping Services for Wellington Residents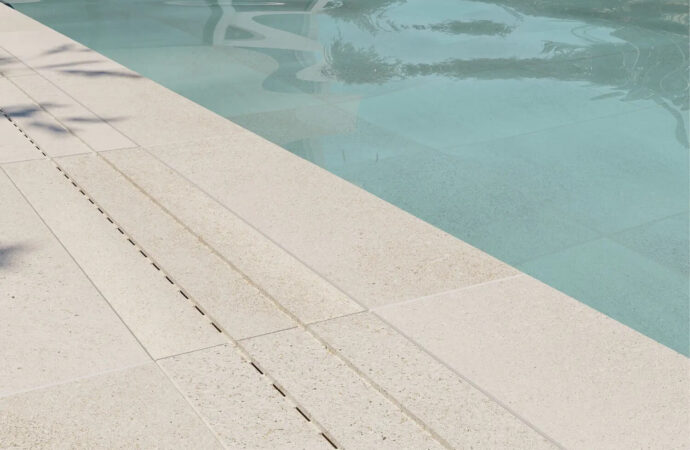 Your edges in the pool structure matter to ensure it last and can offer you comfort. As most moisture and bacteria build up in this part, you want to work around the materials that can prevent it. Pool coping is the solution contractors seem to ignore when handling the separations between the pool shell and the entire area in this process. It will prevent having the edge and pool itself with a space where the water goes. While there, it won't drain or move to the drainage system installed around the water feature. What we do for you at SoFlo Pool Decks and Pavers of Wellington is work on the installation and handle the separation.
We want to ensure pool owners can enjoy their features for years. To do so, we work in all possible ways to enhance longevity and durability. We will work hard to prevent poor pool coping, or most contractors will ignore it. If you already have your new pool planned yet want us to do the coping, we can handle it. But if you wish for us to work on the entire project, always consult with our team.
We love taking on challenges and helping maintain a stunning pool. This is why we want to be there for any need and solution you have and require. You can enjoy a pool for decades with little repairs and maintenance. Meaning you save time and money in the short and long run.
Pool coping is often forgotten when constructing a pool or working with its components. However, we know best, and we recommend that you take the time to learn why it is such an important element if you want your pool to last and prevent any issues with it in the future. We are experts in this area and can provide the best solutions and services, including everything to ensure you have coping that will last. Let us tell you more about it and how SoFlo Pool Decks and Pavers of Wellington can help you with the entire process.
The pool coping is what separates the pool shell and surrounding areas from the deck. It can be considered a division and quite an edge, but not entirely correct when it comes to the last description. This needs to be taken care of if you want a pool that will last.
The way you handle the separation, as well as the area behind it, will have an impact on the pool's longevity and durability. The separation should ensure that the pool structure remains intact as less moisture is accumulated or created due to the water going to the right places, such as the drains installed around the pool. This will make it last longer and save you the hassle of frequent repairs and maintenance, but many seem to have this exact problem: poor pool coping.
Many people are curious about how to maintain a pool and what steps to take to make it last. This coping is for the whole area around your pool. If you are aiming to achieve this goal, it must be durable to all external elements, simple to use, and protect the surrounding area. This will save you most of the money you usually have to invest in your pool area.
Badly installed or maintained edges can cause water damage and other problems to your pool. Pool coping can help you ensure your pool's design and style blend in with the surrounding environment. It is also an investment that will last as much as the deck or make sure the entire pool actually lasts for a very long time without the need for many repairs and allow of maintenance. Pool coping is durable and can last for many years as long as the right quality and material have been chosen for it.
Pool coping is a cost-effective alternative to other options like pool deck resurfacing or even the complete remodeling of your entire pool area.
You have many choices, so you can find the right design for your home. You won't need to replace the materials as long as they meet the requirements you have on your list. Because we are experts in this area, we can guarantee a beautiful and long-lasting result, so rest assured we will be there for every step and ensure you get exactly what you need.
It Is More Than Just Edges & Divisions
Whenever someone asks you or talks to you about pool coping, keep in mind it is an important part of owning a swimming pool. It is not something to be overlooked, yet many people tend to forget about it. It is important to remember that every pool, regardless of age, requires it, and the natural process of building a pool has this coping taken care of.
Now, the type of pool coping you choose will depend on your project, the professional and the cost of the whole service, and how it is handled to ensure aesthetics and durable results.
Contractors may not choose the best quality materials or brands, which can increase costs. Clients are only concerned with the end result, but since they really know about quality and materials, some contractors tend to save money in the coping they get for the pool and invest it anywhere else. This is a huge mistake, and you should keep an eye on this all the time.
If your pool is not performing well due to poor installation or poor services, you'll need to replace the entire coping, and this only means more money and expenses coming your way.
Before you start building your pool, it is important to select the correct type of coping. Experts can tell you if the coping isn't of the highest quality or irregular. Some who are not really professionals will omit the information, but we won't.
Our company uses only the highest quality coping and materials for it will be the best in the industry. We will install or replace a pool coping that has been damaged over the years if this is what you need, or we can install one from zero if you don't want the other company to handle the process while building your pool.
Consider All Types of Materials for Pool Coping
This pool option is distinctive because it can be customized using many designs and materials, and it is all about how professionals use it, so keep an eye on this.
Many popular natural stones are available in a variety of colors and textures. The type of stone you choose will determine the type of coping that you receive and how long it will last as well. Stones do not always have to cost a lot. We offer a wide range of stones at affordable prices that do not compromise on quality.
Other options are available that are less well known but still have the potential to be viable. Travertine is the most cost-effective option among them, while tiles offer the classic look that many homeowners desire for their backyard and pool area.
Our team will assist you in choosing the best pool coping and help you budget for it. We are sure you will be pleased with the final product. Our team is available to assist you with any questions or concerns, and after we have assessed your space to know more about your problems and request, we will be able to give you a good estimate around your pool coping and the service alone.
Below is our list of additional services: