Pool Bubblers Installation Services for Wellington Residents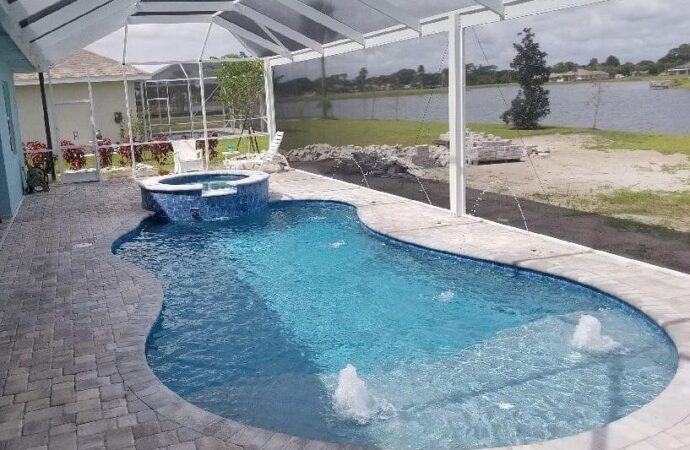 Adding a new pool feature doesn't have to be expensive or a hassle. Depending on the one you choose, or if it meets the different visions you have, you can get an affordable alternative. For instance, pool bubblers installation is a great option in more than one way. First, you get a clean feature that can create the illusion of waterfalls or a fountain effect. Additionally, you can circulate your water better, bringing better performance and making it easier to maintain your pool.
All this can be achieved if the type of bubbler is ideal for your project. Using the right products and getting the installation right will also influence the quality and the result. At SoFlo Pool Decks and Pavers of Wellington, you can have our contractors work on the perfect installation. We have been helping all pool owners with their designs for over 20 years. Although pool bubblers feel and seem simple, they can be game changers when installed right.
You can create multiple effects, such as fountains and waterfalls, or have several jets over the pool. How you think about the bubblers themselves is limiting you from getting the desired result. Our team will guide you through the process and ensure you get the most out of your project. You won't have to worry about continuous maintenance or a boring design.
Additionally, we will focus on how we can improve your water circulation. When we get the entire system in place, you should be able to get cleaner water that doesn't build up sediment easily and can reduce maintenance. All you have to do is choose the right pool bubblers for your type of pool.
Is Pool Bubbler Difficult to Install?
---
Not at all. The system and type of parts you have aren't the difficult part. Knowing where to place them and get the desired result is what plays the tough option. You will need to focus on how to place the nozzles correctly so you don't have to worry about how the water comes out of them.
It is a common issue to have way too many nozzles or just a few. This is because the pool size and the type of nozzles or bubblers used to matter. Although it feels like you only need to install the pump, hose, and nozzles, the design and how you work around this installation are key.
At SoFlo Pool Decks and Pavers of Wellington, we help you with the entire project. This includes going over each step we have included in our process:
Inspecting or assessing your pool: we want to know your pool's size and needs. Can it have bubblers installed? If so, how many are needed based on the design and result in what you want?

Designing the style you want for your pool: we will help you develop a design. If you want a fountain effect or a waterfall one, we draw a plan to make it possible. It will include all the materials and products needed to get the desired result.

We give you an estimate: we review the different details and include all the prices. It will be adjusted accordingly if you add any features or make some changes.

Our team waits for your decision: you have the first and last word. After you get our estimate, you can decide to work with us. If you need time to think about it, you can call or contact us later.

Did you decide to work with our team? We will get to your property and start preparing the pool. We usually won't have to empty or drain your pool for this process. Depending on where we have to install the nozzles, you get to have our team finish the installation faster.

Our team will provide all post services needed. If you ever have problems or issues with your bubblers, we will handle them.
How to Request Our Service & Installation
---
You only need to call or email our team. We can get you a scheduled visit and inspection in no time. Or you are always welcome to use our contact form for more information.
Going over pool bubblers installation is not an issue. You can always have us install them in no time, but we need to know more about your pool. This way, we can come up with the most suitable design and project for you.
We will make sure you don't have to go over the same installation multiple times. We do this by having qualified experts and all the required equipment for the task. Whenever you contact us, keep in mind that we care about the process and how much you can spend.
Thus, we will consider your budget and time. However, we don't sacrifice quality and anything from the project so we can just fit it within a budget. Instead, we will offer you multiple options and focus on how you can choose the most suitable one. This will be a mix of your preferences, budget, and what you can afford in the long run.
With this in mind, remember that our support begins answering all your questions and clearing doubts. Maybe you want to ask about the bubblers we can install, how many are suitable for your pool, or if this is what you need to achieve the result you want. We will guide you and ensure you are making the right decision in choosing the service and hiring us.
Use our contact form right away to leave all your questions. Our team will get back to you in no time and ensure you can get all the attention needed. This includes scheduling the free visit so you can get your quote in no time.
We will be happy to include all the information and details about the bubblers and system we will be using. This way, you know everything about what you are getting before hiring us.
Below is our list of additional services: