Welcome to SoFlo Pool Decks and Pavers of Wellington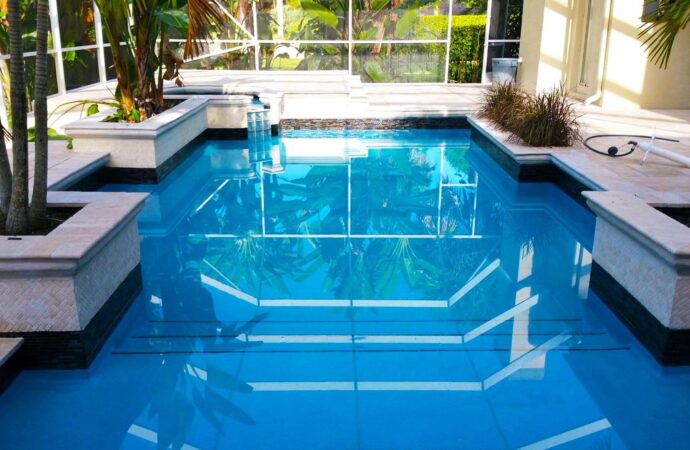 SoFlo Pool Decks and Pavers of Wellington is a top company that offers all solutions and services around pool deck resurfacing. With our qualified and experienced team, you will have a stunning pool area that is especially safe. To achieve this, we work with high-quality materials and products. We ensure to equip our contractors and staff members with the best equipment and tools so they can put their expertise to practice. As we have been in the industry for over 15 years, we know what it takes to get a breathtaking result.
More than pool deck resurfacing, we are focused on providing solutions. Thus, you can find various surfaces and services in our company. Starting with pool remodeling and pool repairs. You can then move on to our multiple services around the specific surface you want for your pool deck. All you need can be found with us as long as you take the first step of contacting and letting our team know your needs.
While we work with you, we care about aesthetics and your request. However, we must prioritize safety, durability, and longevity. This way, you will have a pool area that offers a great experience and doesn't have to be remodeled, repaired, or changed frequently. Also, our support includes working on the selection process. We start here if you aren't sure about the type of service or surface you need. Then, our contractors focus on the planning and designing phases to guarantee every aspect.
Our team at SoFlo Pool Decks and Pavers of Wellington is ready to serve you in every possible way; this includes delivering the usual pool deck resurfacing service or going beyond with the number of solutions and services we have:
Pool remodeling.

Pool deck repairs.

Spray deck.

Pool lighting.

Travertine installation.
And we still have more services available that will help any residential or commercial pool owner in the city and nearby areas.
Unlike other companies in the area, we want to make sure you have a durable and long-lasting result so the beauty and aesthetical aspects of the pool area can last for much longer, and you can enjoy them without worrying about repairs and maintenance all the time.
Most contractors don't really worry too much about this, or they tend to forget that although the aesthetical part is what people end up seeing, the durable and long-lasting aspects are the one's owners end up suffering, and sometimes, even the ones using the pool are as well.
After all, you need to keep this in mind: you DO want a stunning pool, but you SHOULDN'T sacrifice durability and longevity to get it. For instance, some pool deck surfaces will be great for some spaces and depending on the current surface you have or if the project is new or not, but others will be the opposite of good even when the materials themselves or the type of surface is quite good on its own and based on its reputation.
You need to think about what you want to get from all this and focus on several possibilities so you get the most out of your investment and get to enjoy your space for a very long time without having to constantly spend on repairs and maintenance.
We always want to make sure you are able to enjoy the space and avoid thinking about all the repairs that shouldn't come until several years later. Now, the question is, how do we achieve the best results for you?
Well, it is all about going step by step and knowing what needs to be done. Unlike other contractors in Wellington, our team at SoFlo Pool Decks and Pavers of Wellington is here to go over each step; this includes going over the part of knowing about you, your preferences, ideas, and needs, and knowing your pool area, of course.
Then, we will move on and work around the design you want and plan the entire process. To do this, we need to introduce you to the options available or see if what you want is the best. If not, this is up to you in how you continue choosing it or if you will go for our recommendation.
Once this is done, we are going to focus on providing a design and estimate so you can give us the green light and start working on your project. As you can see, several steps are related, and all of them are crucial if you want to have a clean and stunning result.
We won't stop at this and make sure you are involved in the entire process of building the deck, resurfacing it, and remodeling the pool, or regardless of the service you requested or what we will do for you, rest assured you will be aware of every step we take.
This will allow you, the owner, to have a clean result in what you want, and you won't have to worry about quality, durability, and longevity; needless to say, that aesthetics won't be a problem, and we promise the result will be more than just stunning and beautiful.
How Do We Serve You In Wellington & Surrounding Areas?
Or more like: what do we do for you to the point of being the solution to all your problems and covering every need you have around your pool area?
We have been working with residential and commercial pool owners for a very long time, and we want to make sure that you have all the help and support you need. We set specific goals and help you even decide which service would be better for your needs. Otherwise, you may be confused about what you want and need for your project.
With this in mind, we have a long list of services we can offer so you are able to have all your needs and projects covered with our help:
How to Get Access to Our Contractors
It only takes a call or email so we can start working with you and make the entire project an enjoyable process.
We will get you an estimate as soon as you provide us with details and let our team know how we can help you. Ideally, we would rather visit your property and see how your pool area is performing or its current state, so there are no issues related to when we finish our job in all this.
Rest assured, our team at SoFlo Pool Decks and Pavers of Wellington will work hard to give you the exact result you need and take care of every step without delay. We will be working with you before and during the process and make sure that any issues or new additions you want to make after being handled by our team.
We will be there, and you are welcome to visit our team if this is how you prefer to reach out and have the conversation that will change it all in your pool area and only for something better.
Reach out today, and we will be ready to receive you!
Below is our list of additional services: