Pool Deck Brick Paver Services for Wellington Residents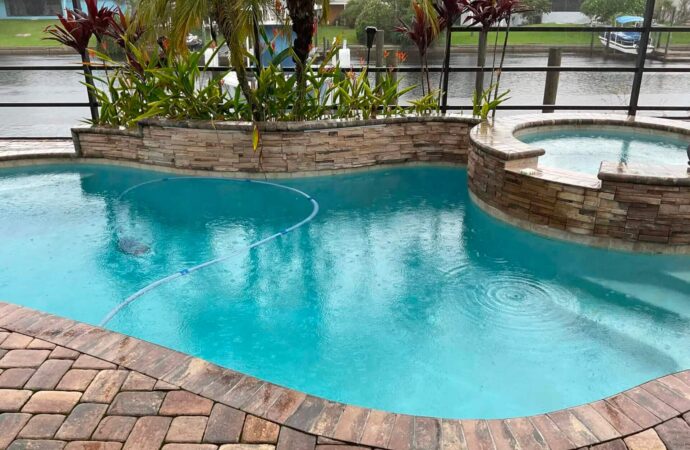 For pool deck resurfacing, you have multiple options. You can choose the most suitable one for your space based on budget, design, style, and longevity. At SoFlo Pool Decks and Pavers of Wellington, we always recommend focusing on all factors simultaneously. Or, more than bringing every consideration to the table, start with the most relevant ones. For instance, longevity and durability are at the top. Then, you can worry about budget and aesthetics. In case you don't have a clear idea of what you may like, we recommend that you opt for pool deck brick pavers.
This option has been in the industry for over two decades. It is a favorite among pool owners due to its neat and traditional aesthetics. But it also brings durability and longevity to the game when the installation is done properly. The small detail is that it can be quite expensive for some owners. However, prices will vary depending on the pavers, quality, and contractors you work with. What tends to vary is not only the price per square foot but also the installation rates. With us, you won't have to worry about anything.
We will make sure you have the best quality materials and pavers. Additionally, all our contractors are well-trained and equipped to perform the installation. You can rest assured the project will be completed in no time and be of your satisfaction. If you need any repairs and maintenance in the future, we are also here to handle them. Now, you may be considering other options or another team, but there are more considerations to keep in mind.
There are many options for pool decks, and how you decide to design them is based on the type of surface you choose, whether during the construction or as a resurfacing option after a very long time. Brick pavers are not the most popular option as they are considered outdated and problematic. Still, it depends on how you see them and how professionals can handle the installation process to ensure you have a clean and perfect result. Our team at SoFlo Pool Decks and Pavers of Wellington can help you with the pool deck brick pavers project if you feel attracted to the surface or want to know more about it since you have seen several good results from other contractors and us.
These pavers will give your outdoor area a modern, non-slippery, elegant surface that can withstand water quite well as long as the pavers are placed and installed accordingly and without missing any details.
Even though you may choose brick, pavers are not always the best. Pavers can cause slippage and may even fall apart depending on how they were placed. This is why it is important to find reliable contractors if you are considering this option and why some people run from the idea of pavers alone, but we can promise you it is a good option if it is about bricks and how we help with the entire design.
Consider this option when building your deck. Professional services and high-quality materials are essential. It is important to ensure that contractors hired for your pool deck and surfacing job are competent and capable of delivering outstanding results.
Brick pavers are a well-known industry practice that our team has been using for over 15 years. Our team has experience in making pool areas last a long time, and we have licensed paving contractors that will help you in every step. We also ensure that the result is beautiful and pleasing to the eye. Our experience and qualifications will help you see the bigger picture and show you how to achieve the best results for the pool deck on your property.
Our outstanding results and exceptional service are based on the quality of the materials and expertise of our contractors. We also care about what you need and want. We believe clients should only buy the best quality materials when they are able to afford them. Many people believe that the most cost-effective options are the best, believing they will last as long as possible. We know this is incorrect, but we also recognize that budgets can be difficult to manage when it comes to prices.
We pride ourselves on offering great services at affordable prices. We are proud to have formed partnerships and worked hard to find the best options for all pool owners and residents, as well as all property owners who need pool decking, no matter the reason behind it.
We Will Make Them The Best Surface Ever
Although the beauty and appeal of the product are the main focus, we also take into consideration the long-term durability and benefits. This is the result of our vast experience, and we want to make sure you have this in mind. Since durability and longevity need to be the priority, then you can worry about the aesthetical part without necessarily neglecting it.
There are many options for colors, so there is something for everyone, and we make sure you can find the right option for yourself. Our experience has taught us how to create a durable surface that will not fade or lose its color over time.
Brick pavers are strong and durable if installed correctly. The installation will be done by our team, so you don't have to worry about maintenance or frequent repairs.
These are the top five reasons you should choose us over others. And most importantly, these pavers options will provide what your pool deck requires or more like what it needs:
There are many colors and options to choose from. You can design several patterns and work around a wide variety of designs with the help of our team.

For commercial properties, you can create a sophisticated and elegant look while maintaining the traditional design for residential pools. There is a lot to be considered, but it does not matter what you have in mind; it is possible.

It is easier to clean up dirt and spillages than other surfaces. 

It is important to remember that low maintenance can save you a lot of time and money, and this is offered by brick pavers and the surfaces we help you bring to life.

It is enough to do a few simple cleaning tasks like brushing. It won't take too much effort to keep the pool deck clean.
Brick Pavers Prices & Your Investment
Pool deck brick pavers are more expensive than eurotile and spray decks because of the longer installation time and higher cost of materials, and all the designing and planning processes involved. This doesn't necessarily mean that they are more expensive or impossible to afford.
Prices per square foot can vary depending on the brand and quality of the paver as well as the person who is providing the service. If you're able and willing to work with professionals, you might still find a reasonable price.
SoFlo Pool Decks and Pavers of Wellington has a variety of options to help you save money and still achieve beautiful results. We can help finance your project at the most competitive price.
Please be specific about the style, color, and approach that you desire. As needed, we'll guide and assist you in making informed decisions.
We will measure your space and provide you with a quote. If you feel more comfortable with us not visiting your property right away, we can answer your questions via phone or email, and we will give you an estimate based on the information you provide us with, but it won't be as close or accurate as a quote we offer after assessing your pool area.
Below is our list of additional services: