Diamond Brite Installation Services for Wellington Residents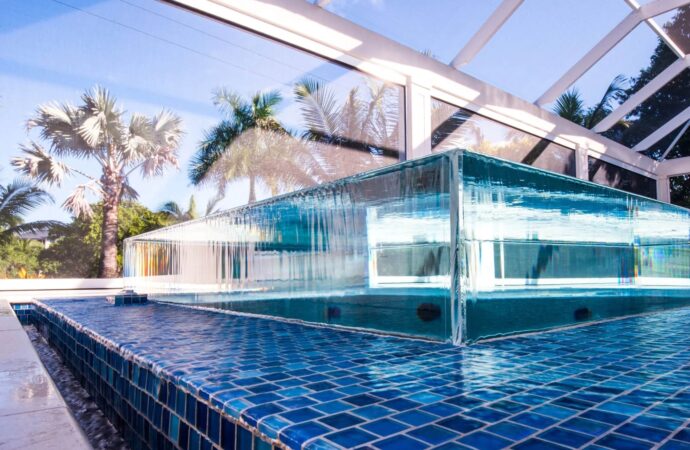 Worrying about your pool is crucial. You may not have noticed that you usually care about details over what's important. For instance, the finish and interior walls of your water feature wear out with time. Although you can have stunning materials, it is natural to require some repairs and maintenance. What you can do to avoid them being often is to work with a good prevention system. Diamond brite installation is the top method to enhance your pool's durability and longevity. Working with contractors who can achieve the desired result is key in the process.
SoFlo Pool Decks and Pavers of Wellington has the best contractors in the state. We can help you design and plan the installation so your finish and what you want for your pool are unique. What's better in all this is that we are able to work with you for your pool or the deck. Most contractors will only consider diamond brite for the interior walls and structure. However, we also know how to use it for your pool deck resurfacing. This way, you can benefit from the material and investment.
The natural quartz aggregate used in the mix makes this option reliable and top-quality. You can have a stunning and shiny finish while adding resistance and durability. It will prevent cracks and stand the longevity test for over a decade with very little maintenance. We will introduce you to all the materials and products used, and rest assured, what we use is the best in the market.
Whenever you are working with pools, you will need to pay attention to the damage and repairs you need to deal with and how much time and money you are spending on your components and each part of the pool if you want it to last and perform well for years. Among all the options or elements you need to care about, your internal walls and decks, in general, need to be at the top of the list. For both, betting on diamond brite installation can be a great idea if you want to save time and money in the short and long run. This finish and material will allow you to enhance the pool's durability and longevity. At SoFlo Pool Decks and Pavers of Wellington, we can help you with every step and ensure the installation is properly done, so you get the most out of your investment.
The deck is often made of concrete or similar materials, but you don't always have to rely on this option alone if you want durability and aesthetics and check all the requirements on your list. It is about knowing how to work with the material and surface you choose and having professionals working with it. This diamond finish is one of the most useful options because it provides more durability and resistance to the structure of the pool and walls.
Natural quartz aggregate is used to make diamond brite, and you will get a lot more durability thanks to this alone. This quartz color is very durable and won't fade like other mixtures, adding longevity as a natural result. 
Modified cement is also included in the components, which are partially made up of polymer. This will give the entire finish more durability and longevity.
Diamond brite is used to make interior surfaces more durable in your pool area so that your pool doesn't have to be constantly repaired. It is also non-slippery, so it won't cause slippage and can give you a better grip in the water.
Diamond brite can also be used for your pool deck, but it is not as popular for this space. However, we highly recommend it if you want to have everything in one area when it comes to:
Durability.

Longevity.

Aesthetics.

Stunning results.
It can withstand almost any weather conditions, so people will have great fun when it is the focal point of their outdoor living space or the pool area they own. Just make sure to allow our team to assess the pool before you jump with this option and go for the installation.
Everyone Should Use It at Least for the Internal Walls
As we know that you have any questions about diamond brite, we'll be answering them in detail if you contact our team. For now, we want to answer the most common ones and go over the information everyone should know when considering this pool finish. This will allow you to understand the importance and how to use it immediately after your pool has been built or during any remodeling or construction project.
It's very comfortable to use, and it will create a surface that will bring a very grip or grasp, and you won't have to worry about the common damage it receives due to the simple use of the pool area.
The pool polish will not fade and does not need to be maintained as often as other elements in the pool. In fact, it will increase the time you can wait to provide maintenance to your pool, which is why you should at least worry about using it for the internal parts of the pool.
It is easy to install, and you can enjoy your pool or deck in no time. It takes only a few days to complete and can be used for many years as long as you have our team working on the project.
How Much Does a Diamond Brite Installation Cost?
Suppose you end up with professionals who care only about selling you a high-end finish. In that case, the installation process can become very costly because they not only focus on the business but also on increasing the price without being able to actually deliver a good and clean result. 
We know the best and can assure you that you will get the highest quality textures and surfaces at an affordable price by relying upon our team. Because of its durability and quality, it's a great investment. It doesn't mean you have to spend a lot to get it, and you will get everything you need in terms of aesthetics as needed as well.
To ensure you do not spend more than your budget allows, we encourage you to stick to us, SoFlo Pool Decks and Pavers of Wellington. We will give you a quote after learning about your pool, its size, and the amount of work required to install it.
Project costs can vary depending on the extent of work needed and the size of the space, so keep in mind we will need to work around the specific pool area you have and the size of your pool alone if this is where you want the diamond brite to be installed only.
If you allow us to access your property, we will gladly visit it to assess its condition. We will make no changes or additions. After we have completed an assessment of your space and given you a final quote, the final price will not change. However, you are welcome to make any additions and changes as needed during the project. As long as they are doable based on how advanced we are in the installation, we will be happy to comply with them and adjust the price accordingly.
All aspects of the project will be covered, from draining the pool, and removing tiles, to installing diamond brite, bonding coats, and adding new tiles. Our qualified and experienced professionals will handle the project, so you will have a surface that will be unique and perfect for your space.
Below is our list of additional services: