Pool Remodeling Services for Wellington Residents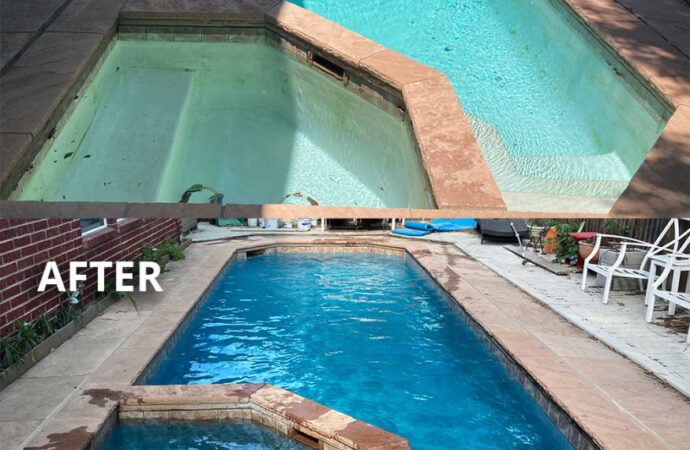 With a damaged pool, you cannot attract clients or guests. You cannot enjoy the day and keep everyone if it is in your home either. When you face this situation, or maybe your pool is more of an eyesore, pool remodeling is the right way. You can have a brand-new design and look without spending the same as a new construction. You also get to repair any damage and work on full maintenance. You will get a new water feature with the right contractors by changing the essentials or going over a massive project. At SoFlo Pool Decks and Pavers of Wellington, we would love to help you.
We have remodeled multiple pools over the years and ensured their owners are happy with the result. What makes us the best contractors for your project is how we plan it and work around needs and requests. Although this entire remodeling process is for aesthetics and safety, we focus on the current damage. What does your pool need the most to be functional? Then, what does it need to look stunning again? While at it, we consider all your preferences in colors, features, and more.
In other words, you have a team that will work on customization. This pool is for you and your goals. Thus, the point of its remodeling is to achieve a result that goes beyond satisfaction. We use top-quality products, work around your budget, and focus on getting every detail for the aesthetics and landscaping.
If you have had your pool for a while, or maybe you are getting a new property with one included, we are confident that you will reach a point when pool remodeling sounds appealing for two main reasons: you want it to reflect your style, and you want it to last much more from now on. At SoFlo Pool Decks and Pavers of Wellington, we know this quite well as we have been helping pool owners for over 19 years, and make sure you and everyone else get the perfect design and durable result that will bring all the benefits you have wanted all this time.
Our contractors are more than qualified to handle any type of remodeling project, as they will use all their skills and expertise to transform your space or feature. We can create a design that is both stunning and long-lasting based on your requirements and preferences. This will make your pool both beautiful and fun for everyone, and you won't have to worry about extra expenses later on.
We can help, no matter what your reason is for this project. Contractors sometimes hesitate to accept a project because it is not something they feel comfortable with just because it is for a new look, or maybe they thought the client wanted a new surface and pool to make everything look like new even though there may be a good design in place already. Well, you have your reasons, and we won't question them. We will only support the process so you can finally get what you want and need.
It is our job to ensure that you are satisfied with the completion of every project. We will also make sure you have the items you want and need to be installed in every corner, so you don't have to worry about all the details and furniture.
Remodeling a pool involves many steps. Take your time and be patient as you review each detail. You may not need the same pool remodeling services as your neighbor, friend, or family member. After all, it is all about having a design and pool you enjoy and love, even when it may be open to other people.
A popular choice for remodeling is to resurface a pool deck. This involves the entire deck remodel, including the area surrounding the pool. This will ensure everyone has a safe and beautiful place to spend their time, which is often considered due to how massive the project is and how it will change the look of the pool entirely.
Resurfacing your pool deck can be a good idea if it has been damaged. You can fill cracks or fade areas, so you get the best of both worlds. You can choose to put in a new finish or recoat the existing one if it isn't what you are looking for.
There are many options for resurfacing, so you will need to take the time on this and have the help of our contractors in Wellington so you can make a well-informed decision about what is stunning but also durable and long-lasting.
We Will Be There for You at Every Step
Remodeling a pool involves adding new features to the pool or simply changing or removing existing ones. Resurfacing and coping options are important, along with the staining options, and it is all a mix by the end of the day. You just have to worry about what you want and can afford.
Resurfacing can give your area a new look and solve any issues you may have. Your deck will look great and be durable.
But among all the options available for resurfacing, which ones are the usual alternatives that we recommend or people choose in our company? These right below include some:
This method can make your pool natural without worrying about hot or slippery surfaces. This is a great way to avoid accidents and make sure your pool has everything it needs.
This is the most affordable option and can usually be completed in two to three days. This product can instantly transform the appearance of your swimming pool and bring a durable design for less money. It's faster than other materials and resurfacing options. 
It is also cheaper than regular products, as we mentioned, and it will produce a neat and clean result no matter the initial impressions.
They are loved by clients and visitors alike for their stunning designs. There are many colors to choose from, and different results can be achieved depending on how pavers are used and installed. Most repairs are simple and cost-effective.
This surfacing option can be used to replicate certain designs or materials, such as tiles and natural stones, but at a lower price. It also doesn't compromise quality, durability, aesthetics, and affordability while trying to get a specific surface out of it.
Concrete, tiles, and your regular surfaces.
We will help you choose around all the options available in the market and work with them as requested or needed.
How We Help Everyone in Wellington
We know remolding your pool can be overwhelming, which is why SoFlo Pool Decks and Pavers of Wellington contractors want to be the support and solution you need in all this.
We will ensure you get exactly what you want for a fair price so you don't have to spend more than you can afford. However, if you want to work around remodeling, we will need to assess your space and access certain information right when you contact us:
Your pool's size.

The entire space and if there is any damage to deal with.

If this is your first time remodeling.

Your preferences in colors, designs, styles, surfaces, and so on.

What's your regular budget for this project?

Are you open to any recommendations and designs from our team?
From there, we will either visit the property as you schedule a visit or give you a quote from the previous questions and the answers you give us.
Below is our list of additional services: