FREE Pool Deck Resurfacing Quote for Wellington Residents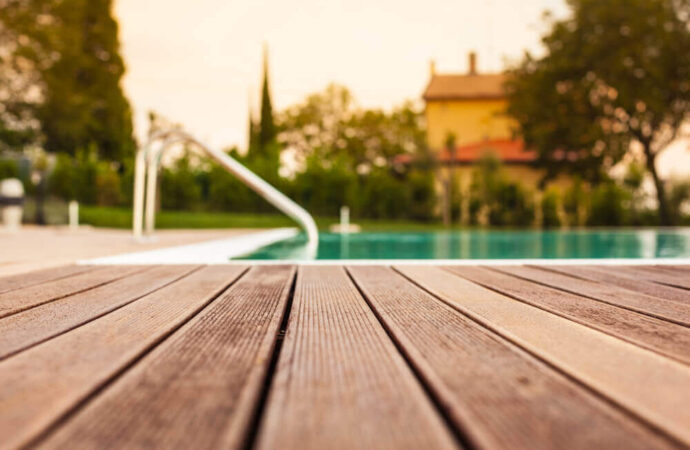 Pool deck resurfacing? Maybe pool deck repairs? What about pool remodeling? Our SoFlo Pool Decks and Pavers of Wellington team can address your needs and focus on what you want for your pool area. While we are at it, we will include your preferences in designs and styles. This way, you will have a result that will bring all the comfort for the space and features while having a stunning landscape. But how can you have our team work on your pool? Is it possible for us to help homeowners and commercial owners equally?
You only need to call or email our team to reach out. They will answer or reply in no time and focus on your request. If you are worried about us working with small-scale projects, don't be. We are qualified and experienced to help with small and large-scale ones. This includes being there for homeowners and commercial owners. Thus, you can contact us and have our contractors visit your space, inspect it, and help you make decisions.
Our services go over the usual pool deck resurfacing process. However, we have multiple solutions if you're fixed on it or if this is what you need. We can offer various resurfacing options, from installing travertine to spraying your deck. You can choose based on your budget, needs, and preferences in colors and style. We help you bring all the ones you love to the table and decide what is durable and long-lasting.
Our team at SoFlo Pool Decks and Pavers of Wellington is always ready to receive you for any of the services we offer in the city. We have been contributing to the mission of ensuring that all commercial and residential pool owners can have a clean and stunning pool deck installed, resurfaced, or the entire pool remodeled so they don't have to go back to it over and over again due to poor services and results delivered by other contractors.
We want to make sure you are happy with every detail, but to do so, we need you to be able to reach out to the team easily and without struggling with the entire process. We know it takes a lot of work to find reliable contractors nowadays, and we want to guarantee that it is easy to call or email us or even visit our offices, and once you do, you can get all the attention and support you need for your project.
We want to make this clear: we're always aiming for the best, so don't expect us to be there to deliver a poor or quick result just because we want to do more business and have as many clients as possible.
We will be there and spend as much time as needed on your project, and remember that our help doesn't begin when we are actually working in the space but rather right when you call us since going over your needs, preferences, project, and every detail is part of how you want this to turn out.
Our company pays extra attention to every single detail and step since this is what allows us to guarantee the best results for every person that decides to trust in us and give us access to their pool areas so their projects are all done and ready.
Why Choose Us?
Because we will be there in no time, we offer support that involves not only working around the heavy work but also designing and planning the project so you can know what to expect and how we will make your dream possible.
Our contractors offer all the support you need as well, and they are more than happy to assist you with every project regardless of what it is since we have over ten different services waiting for you:
And many more that will be suitable depending on the project you have in mind or what needs you have related to your pool area, and not only the deck.
We will be here to support you in choosing the right service and providing all the details and information you need so you don't regret your decisions around the designs and styles and get all the durability and longevity everyone should expect from their pools.
We work hard to be the best, and this is only meant for you as we want you to stop worrying and start enjoying.
Below is our list of additional services: