Cool Deck (Kool Decking) Services for Wellington Residents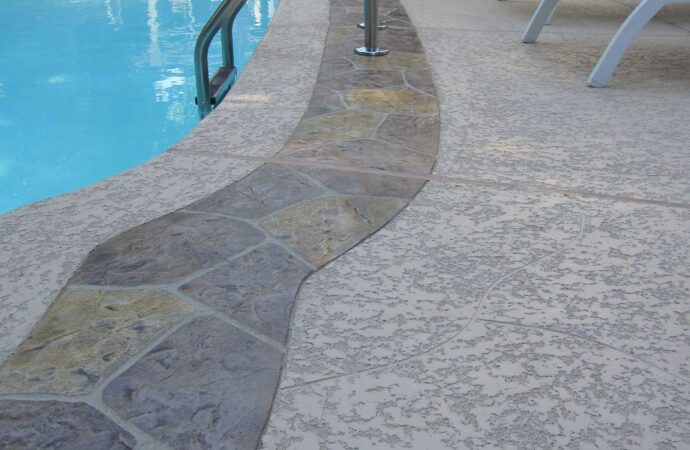 Safe, durable, and long-lasting. We want all pool owners to have this when they work on their pool decks. This goes to both commercial and residential pool owners around the city. At SoFlo Pool Decks and Pavers of Wellington, we put a lot of emphasis on what the best option is for safety and longevity. Thus, before we can offer you the specific design and appearance you are looking for, we will bring the ones that offer the greatest benefits. Cool deck or kool decking is a top option not many pool owners are familiar with. However, it won't disappoint and complies with both factors: your safety and your preferences in look.
Kool decking is the option you opt for when you want a customized surface. Unlike brick pavers or your usual eurotile, you can design based on your desired color and texture. The best part is that the coating offers durability and longevity. You won't have to perform repairs in years and the maintenance is minimal. Additionally, you get to experience a low-cost surface that can bring a great experience to the pool area. All that matters is knowing how to work with the materials and having high-quality ones.
Our team has been working with pool decks of multiple sizes. This cool deck option has taken care of many of them, as it can cover the usual repairs and damage from some decks. As resurfacing meets multiple purposes and needs, you can experience a full solution with this coat. You have to let our team know or be open to the recommendation.  
If you want to make sure that every person can enjoy your pool area, you should focus on how to make sure that your surface or entire pool deck is safe in terms of how it heats or how slippery it is. Professionals can assist you with the process and help you choose the right surface, so you don't have to worry about anything. SoFlo Pool Decks and Pavers of Wellington recommends cool decking, also known as kool decking if you want a surface that is affordable, durable, and offers all the benefits we have mentioned so far. This option is customizable to achieve specific looks, and you will have a long-lasting deck in a place that will reduce the time and money you need to invest in it.
Our team has been providing this coating for more than a decade to both residents and business owners. It's safe for pools and can be installed by our experts, so you don't have to worry about the quality and all the details that come with the project and the hard work it involves.
Cool coatings can be applied to pool decks of all sizes. You will need to learn more before making a decision, but we can guarantee you there are very few limitations, and you can usually choose it regardless of the project you have in mind.
We want you to be happy with the choice, which is why our role begins when you contact us, and we start talking about this kool decking option and how it benefits you. It's not worth spending extra money on products that aren't right for you or don't suit your budget after all.
We want to tell you that kool decking can be used in many different ways before we get into the details about it and why it is so popular in the city. Although it is not the best choice for pool deck resurfacing in every single pool area, it can be combined with the spray deck to make it the most cost-effective. 
You can ask for more information or have one of our commercial or residential pool deck resurfacing contractors assist you with a bigger job, so you have a clear idea of what is needed and why.
You Should Be Part of Those that Love Kool Decking
When it comes to outdoor spaces or pool deck surfaces, there are many options to choose from, and you will have a hard time trying to determine what's better or not; we know this quite well. Not all options will meet your needs, and some can be expensive whatsoever, so it is crucial to think about them carefully and take the time to go over them.
Pool owners always want a cost-effective, safe, beautiful, and long-lasting surface that will pay off their money and investment in terms of time and what they are getting as long term use. There are many factors and variables to consider. We want you to be happy with your choice, which is why we always go over the options available and, in the case of kool decking, we will provide you with all the information and details so you can get the most out of the investment and even get ROI around the surface you have us install or add for your pool deck, be it in a residential or commercial pool.
When choosing a surface to cover pool decks, there are two main priorities: it shouldn't be slippery, and you need to make sure it doesn't heat with the sun, it does not matter if it is summer and the sun isn't helping much.
A cool deck is an ideal surface for homeowners or business owners as it meets all their needs, including cost, durability, and aesthetics.
Kool decking can be installed and will last for at least ten years with minimal maintenance. You will not need to make any repairs, or the number of them will be reduced greatly. A cool surface will be easy to maintain, and it is obvious in the name as well as the final result you will see once installation has been completed.
It doesn't really matter how old, or new your pool deck is; kool decking is a possibility as long as you have our team working on the project and delivering the best support. It doesn't have to look ugly or unsafe. It can still be beautiful and safe, so don't question the design we can achieve with this option around what others think or compare it to the most stunning surface of all. We can help you design your outdoor space, and we want you to be happy with every detail whatsoever.
Any design or style can be created as long as it is well-prepared and clean. It is important to assess the damage done and to ensure that the new coating doesn't pose a danger to your outdoor space.
SoFlo Pool Decks and Pavers of Wellington will help you get a great result. We will assess the space, make sure every detail is taken care of when we handle the project itself and guarantee you feel happy and confident regarding the option you chose for the deck.
How Much Will This Project Cost You?
You don't have to worry about the cost of Kool Decking. The cost per square foot ranges from $3 to $5, and the final price depends on the size of your pool deck, the labor involved, and if any repairs are required or other additional services must be added to the quote and the entire process.
Resurfacing can be more costly due to the cleaning and repair costs involved. You will get a stunning result and a lasting finish if you choose our service, and we will make sure to point out everything we will handle for you and work around your budget.
We are happy to provide you with a quote based on the dimensions of your pool deck and any other variables that we can discuss with you.
Below is our list of additional services: